Presenting Sponsor Of Variety The Children's Charity
About Variety
Variety – The Children's Charity of Greater Philadelphia has been serving children with disabilities since 1935.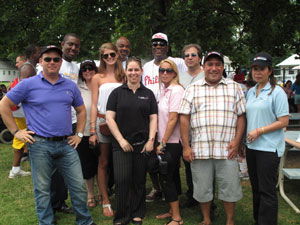 Our programs and services are designed to best address the children's physical, social, medical, educational, and recreational needs without regards to economic status, race, creed, gender, or type of disability.
Variety serves children between birth and 18 with temporary and/or permanent disabilities resulting from injury, illness, or congenital conditions.
The Lawyers at MPL Are Presenting Sponsors of Variety – The Children's Charity of Greater Philadelphia
About Kids with Heart Talent Show
MPL is the Presenting Sponsor of "Kids with Heart talent show"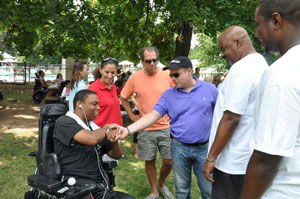 A special evening of music and dance as Variety children and youth take center stage at the Prince Music Theater. In partnership with Eddie Bruce Music, the Kids with Heart Talent Show is a favorite among Variety kids and supporters alike. We will be rolling out the red carpet for our special guests as they show off their abilities instead of focusing on their disabilities. This is one of the most inspiring shows you will ever see, so mark your calendars today!
Kelly Green
Executive Director
Variety-The Children's Charity
Attorney Dean Weitzman
MyPhillyLawyer
Managing Partner
Variety Club Camp and Development Center
MyPhillyLawyer recently held a barbecue for the kids at the camp. Everyone that works at MyPhillyLawyer was invited for a tour of the camp, meet the kids and attended the barbecue.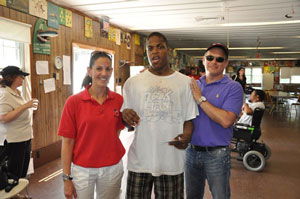 The Variety Club Camp is a nationally-acclaimed 80-acre facility located in Worcester Township, Montgomery County, serving children with special needs. In continuous operation since 1949, the camp is completely winterized for use on a year-round basis. Facilities include 19 cabins (each with a restroom and shower), a large dining and kitchen facility, a medical building, an arts and crafts center, computer and A/V labs, a greenhouse, nature trails, an outdoor amphitheater, and an auditorium with stage. Recreational facilities include an indoor sports pavilion with an Olympic-size indoor swimming pool, an outdoor pool, basketball courts, a gymnasium, ball fields, a recreation hall, and a playground. All camp facilities are completely accessible to persons with disabilities.
The philosophy of the camp & developmental center is to provide a fun, safe recreational experience designed to foster greater independence and to provide an opportunity to participate in adaptive, age-appropriate peer group recreational and educational programs. Each program is designed to allow all children to participate to the highest level of their abilities.