Get MyPhillyLawyer's Free Mobile App for Legal Help Anywhere
By Dean I Weitzman, Esq. on July 10th, 2015
MyPhillyLawyer now offers a free mobile app for your smartphone or tablet that provides basic legal information, contact details in an emergency and a helpful accident report capability so you can collect and fill in all the important information that's needed  if you are ever involved in a vehicle accident.
The MyPhillyLawyer app is available immediately for Android devices through the Google Play Store and for Apple iPhones and iPads through the Apple App Store to assist clients and prospective clients with basic legal information when they need it.
Using the app, clients can find clickable icons that lead to basic legal descriptions of cases involving vehicle crashes, personal injury incidents, medical malpractice situations and workplace injuries, as well as a two-click process to reach an attorney from MyPhillyLawyer 24 hours a day, 7 days a week, 365 days a year. Personal biographies of our compassionate and talented attorneys are also built into the app, giving clients details about the background and insights of the lawyers they are interested in retaining.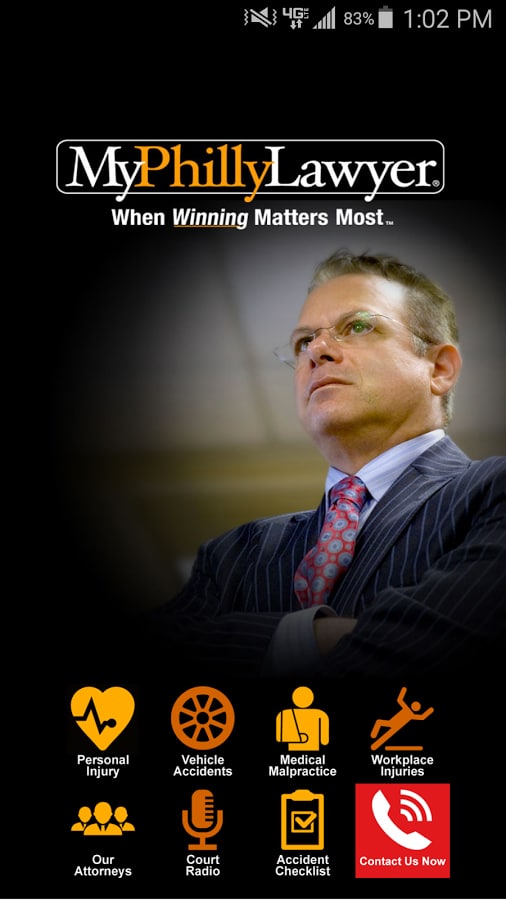 Also included is a handy podcast library of recent and past MyPhillyLawyer Court Radio broadcasts, which are aired every Sunday morning at 7 a.m. on Philadelphia's Old School 100.3 WRNB, Boom 107.9 WPHI and on Praise 103.9 WPPZ. Court Radio, which has been airing since January 2009, highlights topical legal issues every Sunday morning on a wide range of legal topics, from personal injury questions to insurance, estates and wills, vehicle crashes, surgical errors, divorce, family law and much more. Using the app, you can listen to the informative podcasts anytime from anywhere, just like our 18,000 listeners who are hearing the broadcasts live each week.
Through the app, clients can also quickly reach our law firm to schedule a free consultation about any legal issues they may be facing.
So why in the world did MyPhillyLawyer create this app?
That's easy. We built the app to give clients and prospective clients a straight-forward and quick way for them to find out more about our law firm, our attorneys and for the way that we approach our clients, their cases and their legal needs.
I think we're one of the early adopters in bringing legal help to clients through an easy-to-use and always-available app on their mobile devices. Clearly, the world is going to all things mobile and we want to be in the forefront by giving our clients the tools they need when they want to contact us for help and advice in a critical moment.
The built-in accident reporting form is a key example of the app's usefulness. A client can click the "Accident Checklist" icon on the main app screen to access the fillable form where you can type in all of the relevant information that is needed if you are involved in a vehicle crash. The details include names and address of all involved drivers, insurance company and vehicle information, descriptions of the crash scene and road names, weather details and more, all laid out so that victims can collect all of the pertinent details which will be needed by their attorneys to represent a client and protect them following an accident.
Using this app, you won't have to think about all of the details on your own that you need to obtain while you are at the accident scene. This way, MyPhillyLawyer can help you by providing an app that already identifies the needed information and guides you to fill it in and collect it easily during a stressful time.
Providing this professionally prepared app for our clients to help them process their claims is a good thing and it's exciting to do it. The Android app, which was released July 5, is an 8.6MB download and requires Android 4.0 and up for installation and use on Android devices. The iOS app, which was released July 8, is a 26.2MB file and works with iOS 6.0 or later. It works with iPhones, iPads and iPod touch devices, and is optimized for iPhone5, iPhone 6 and iPhone 6 Plus devices.
I invite you to download our new Android or iOS apps so that we can introduce ourselves to you and your family in more detail and make it easy for you to reach us when you are seeking legal services.
We here at MyPhillyLawyer stand ready to assist you with your legal case if you or a loved one is ever seriously injured in a vehicle incident or accident anywhere in the United States. We represent the families of victims who die in such tragedies as well, to ensure that their families receive every penny of damages that they are eligible to receive. We are also there to handle cases involving medical malpractice, workplace injuries, personal injuries, family law, wills and estates, criminal cases and more. It is critical to have a legal team on your side that uncovers every fact to bolster your case and maximize your damage award, and that's what we do best.
Call MyPhillyLawyer at 215-227-2727 or toll-free at 1-(866) 352-4572 anytime and our experienced, compassionate, aggressive team of attorneys and support staff will be there for you and your family every step of the way as we manage your case through the legal system.
When Winning Matters Most, Call MyPhillyLawyer.