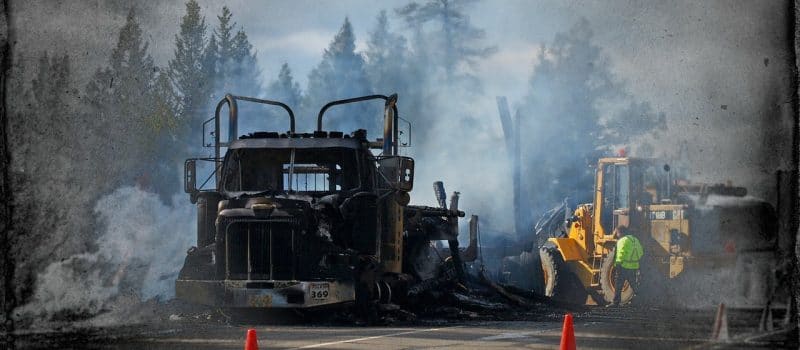 $8.5M Settlement in Truck Crash Deaths Caused by Drug Clinic Patient
By Dean I. Weitzman, Esq. on January 29th, 2016
An $8.5 million settlement has been reached in Minnesota for the families of two men who were killed in a multi-vehicle crash in October 2012 when the truck they were riding in was struck by a vehicle being driven by a patient who was in drug treatment at a methadone clinic.
Mitchell Lingren, 29, and Zachary Gamache, 25, were killed on Oct. 1, 2012 when their truck was struck by a car being driven by methadone clinic patient Vanessa Brigan near Wright, Minn., according to a Jan. 27 story in The Brainard (Minn.) Dispatch. The impact caused the truck carrying the two men to careen across the highway, where it was then struck by a large truck that was hauling construction equipment, the story reported. Brigan's car had crossed the centerline of the roadway before striking the truck carrying the men.
"Brigan had received methadone treatment at the Pinnacle [Recovery Services] clinic in Brainerd earlier in the day," the paper reported. "She also admitted to injecting a take-home dose of the drug intravenously before beginning a 100-mile drive back to her home in Cloquet."
The settlement came before a trial was to begin in Minnesota State District Court, the story reported. Under the terms of the settlement, the methadone clinic and its CEO, Dr. John Stroemer, "agreed to be found negligent" in the case, which was filed by the families of the two victims.
Brigan, now 30, is serving a six-year prison sentence after previously pleading guilty to criminal vehicular homicide charges, the paper reported. "Attorneys for the families subsequently alleged that Stroemer never conducted a physical examination of Brigan or even looked at her medical records prior to prescribing her a take-home dose of the narcotic," the story stated.
Under the settlement, Pinnacle Recovery Services is to pay $5.7 million to the families of the victims, while Stroemer is to pay $2.85 million. "The plaintiffs have agreed to seek damages only from West Bend Mutual Insurance Company and the Minnesota Joint Underwriting Association, the liability insurers for Pinnacle and Stroemer, respectively," the story reported. "Both insurers have denied coverage, but suits have been filed in district court seeking to force payment."
These kinds of tragic legal cases occur every day when innocent victims are severely hurt or killed in vehicle crashes and a wide range of other incidents through no fault of their own due to the actions, inattentiveness or indifference of others. That's why it is critical to have a legal team on your side that uncovers every fact to bolster your case and maximize your damage award.
We here at MyPhillyLawyer stand ready to assist you with your legal case if you or a loved one is ever seriously injured in such an incident anywhere in the United States. We represent the families of victims who die in such tragedies as well, to ensure that their families receive every penny of damages that they are eligible to receive.
Call MyPhillyLawyer at 215-227-2727 or toll-free at 1-(866) 352-4572 anytime and our experienced, compassionate, aggressive team of attorneys and support staff will be there for you and your family every step of the way as we manage your case through the legal system.
When Winning Matters Most, Call MyPhillyLawyer.