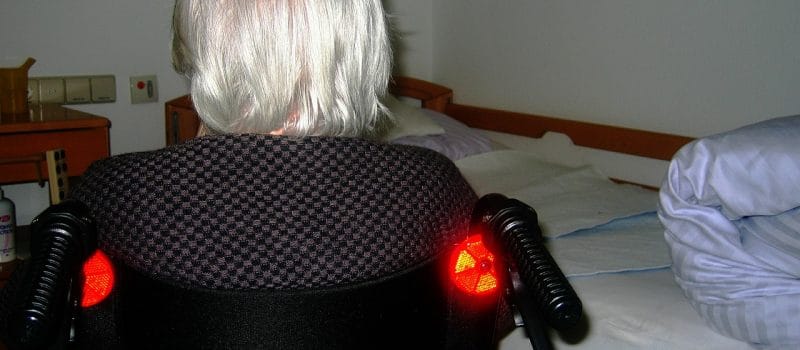 $2.39M Verdict to Woman Injured in Fall After Knee Surgery
By Dean I. Weitzman, Esq. on February 24th, 2016
A Macungie, Pa., woman has been awarded $2.39 million in damages by a Lehigh County jury after knee replacement surgery in 2012 left her disabled and confined to a wheelchair.
The patient, Betty L. Shiflett, had originally undergone a left knee replacement operation in the early 1990s which by March 2012 needed to be redone, according to a Feb. 12 story in The Legal Intelligencer. In April 2012, Shiflett again underwent the replacement of the same knee joint at Lehigh Valley Hospital, the report stated.
The second replacement knee operation was successful, but the day after the surgery the patient was "scored as a high risk for a fall" by nursing personnel in the hospital. "In the early morning two days after her surgery, Shiflett fell out of bed and landed on her left knee," the story continued.
The plaintiff was then moved to a rehab unit a day later where she complained to a nurse "about a sharp pain in her left knee that was worsening, and that she heard a clicking noise in her knee when she moved her leg," the report continued. The nurse, however, "never told anyone about those symptoms," according to the story.
Four days after being moved to the rehab facility, the patient's physical therapist heard the clicking sound in her knee and sent her for an X-ray, which found that Shiflett needed additional surgery for an avulsion fracture, the story reported.
That second surgery was unsuccessful, however, and resulted in the plaintiff developing a MRSA infection in her knee, which left her "ineligible for additional surgery" in the future to try to correct the problems, the story reported. As a result, Shiflett "will remain completely disabled and largely confined to a wheelchair," according to a plaintiff's memo in the case.
The memo alleged that the plaintiff's fall in the hospital "either caused the fracture in her knee, or weakened her knee, making her more susceptible to injury," and that "Lehigh Valley Hospital provides no training on how to reduce fall-risk."
The nurse should have considered preventative measures to reduce the risk of a fall by the patient before she ultimately fell, the lawsuit alleged. Those measures would have included informing family members that the patient had a high fall risk and encouraging family members to spend the night in the hospital with her, the story reported.
The 12-member jury found the hospital and the nurse to be negligent following a seven-day trial and about three hours of deliberation, the story reported.
Shiflett and her husband were awarded $800,000 for past noneconomic loss, $500,000 for future noneconomic loss, $300,000 for loss of spouse's services, society and consortium and about $791,000 for future medical and other expenses, according to the story.
These kinds of cases are a somber reminder that patients and their families must be vigilant about the medical care they receive so they know what is being done for a patient's care every step of the way. But at the same time, patients and families aren't doctors and they can't know every question to ask.
That's where skilled, expert, compassionate and thorough legal representation is needed by patients and their families who have been harmed by medical errors or omissions during their treatment. These kinds of cases happen on a regular basis, but they can be fought by legal teams that are prepared to battle for their clients' rights all along the way to a fair settlement or to a just verdict.
We here at MyPhillyLawyer stand ready to assist you with your legal case if you or a loved one is ever seriously injured in a similar medical malpractice, birth injury or related case anywhere in the United States. We represent the families of victims who die in such tragedies as well, to ensure that their families receive every penny of damages that they are eligible to receive.
Call MyPhillyLawyer at 215-227-2727 or toll-free at 1-(866) 352-4572 anytime and our experienced, compassionate, aggressive team of attorneys and support staff will be there for you and your family every step of the way as we manage your case through the legal system.
When Winning Matters Most, Call MyPhillyLawyer.