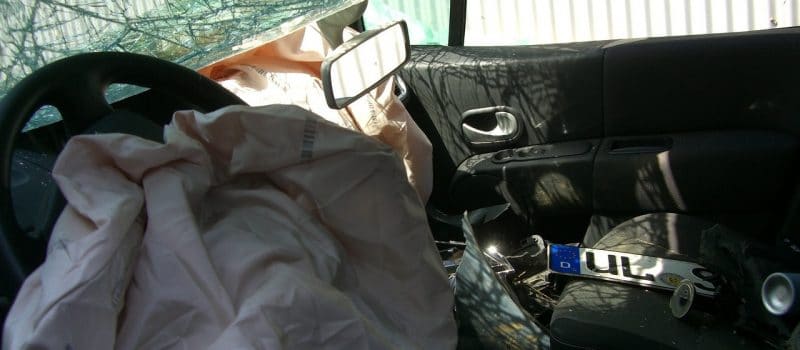 $14.9M Verdict to Woman Severely Injured by Driver's Seat in Crash
By Dean I. Weitzman, Esq. on April 8th, 2016
A 43-year-old California woman has been awarded a $14.9 million jury verdict after she was severely hurt by the driver's seat back in her car when she was rear-ended by a pickup truck in a 2012 crash.
Marcia Gray was driving her 1995 Mazda Protégé automobile on westbound Interstate 580 near the Interstate 980 interchange on April 30, 2012, when she stopped suddenly to avoid a crash ahead of her and was hit from behind by a Chevrolet pickup truck, according to an April 7 story in The San Jose Mercury News. The impact caused her seat to fly backward and her body was folded over "like a clamshell" by the pickup's impact, the story reported.
Gray was severely hurt in the crash, suffering "13 crushed ribs, a fractured vertebra that left her partially paraplegic and a brain injury," according to the story. Gray now walks with a cane and is capable only of limited movement since the crash.
The car has a "gear mechanism on the left of the driver's side [that] was designed to collapse the seat backward in a wreck in order to absorb the energy from a crash," but instead of protecting her, the feature contributed to her serious injuries, the story reported. "Her attorneys said Mazda knew about seat problems through crash testing in 1995. Mazda allegedly continued with the same design through 1998, and there were never any recalls of the design."
The Alameda County jury found Mazda 55 percent responsible for Gray's injuries and the driver who rear-ended her car 45 percent responsible. Mazda is apparently considering an appeal of the verdict, the story reported.
These kinds of tragic legal cases occur every day when innocent victims are severely hurt or killed in vehicle crashes through no fault of their own due to the actions, inattentiveness or indifference of others. That's why it is critical to have a legal team on your side that uncovers every fact to bolster your case and maximize your damage award.
We here at MyPhillyLawyer stand ready to assist you with your legal case if you or a loved one is ever seriously injured in a vehicle incident or accident anywhere in the United States. We represent the families of victims who die in such tragedies as well, to ensure that their families receive every penny of damages that they are eligible to receive.
Call MyPhillyLawyer at 215-227-2727 or toll-free at 1-(866) 352-4572 anytime and our experienced, compassionate, aggressive team of attorneys and support staff will be there for you and your family every step of the way as we manage your case through the legal system.
When Winning Matters Most, Call MyPhillyLawyer.