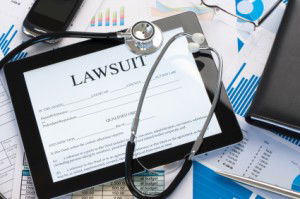 $534K Award to Woman Injured in Slip and Fall at an Autozone Store
By Dean I Weitzman, Esq. on January 6th, 2017
A Philadelphia woman who was seriously injured when she slipped and fell on ice outside an Autozone parts store in North Philadelphia in February 2014 has been awarded a $534,000 damage award in the case.
The victim, Bernadette Tanner, who works as a home health-care administrator, slipped and fell on snow and ice at the Autozone store at 3900 N. Broad St. on Feb. 17, 2014, which left her with a dislocated and fractured left ankle, according to a Dec. 15 story in The Legal Intelligencer.
After the incident, Tanner sued Autozone, which leases the store, as well as the owners of the building, but the case against the building owners was later dismissed by the court after it was determined that the tenant was responsible for clearing snow and ice from the property, the story reported.
Attorneys for the plaintiff alleged that Autozone failed to clear and treat the snow and ice, which led to dangerous conditions outside the property, the story reported. "Despite Autozone witnesses testifying that the business had administered snow-removal services, there was no proof that it did so, and photos of the sidewalk showed ice," the story reported.
After her fall, Tanner was transported to a hospital in an ambulance and was treated for a dislocation and trimalleolar fracture of the left ankle that required surgery a week later, according to the report. She was fitted with casts, and later a walking boot, crutches and then a cane to return to being able to walk by herself, the story reported. She also underwent physical therapy for several months before she was discharged from treatment in January 2015.
An expert who testified on behalf of the plaintiff said she had "suffered a permanent injury, including a reduction of range of motion and permanent scarring," the report states.
Her lawsuit sought damages for past and future pain and suffering, as well as $33,977.30 in past medical costs, the story reported. A Philadelphia Court of Common Pleas jury in November found Autozone to be 100 percent liable for the plaintiff's injuries and awarded her a $534,000 verdict.
These kinds of legal cases occur every day when innocent victims slip and fall or are severely hurt or killed in vehicle crashes or other incidents through no fault of their own due to the actions, inattentiveness or indifference of others. That's why it is critical to have a legal team on your side that uncovers every fact to bolster your case and maximize your damage award.
We here at MyPhillyLawyer stand ready to assist you with your legal case if you or a loved one is ever seriously injured in a slip and fall incident or other accident anywhere in the United States. We represent the families of victims who die in such tragedies as well, to ensure that their families receive every penny of damages that they are eligible to receive.
Call MyPhillyLawyer at 215-227-2727 or toll-free at 1-866-920-0352 anytime and our experienced, compassionate, aggressive team of attorneys and support staff will be there for you and your family every step of the way as we manage your case through the legal system.
When Winning Matters Most, Call MyPhillyLawyer.