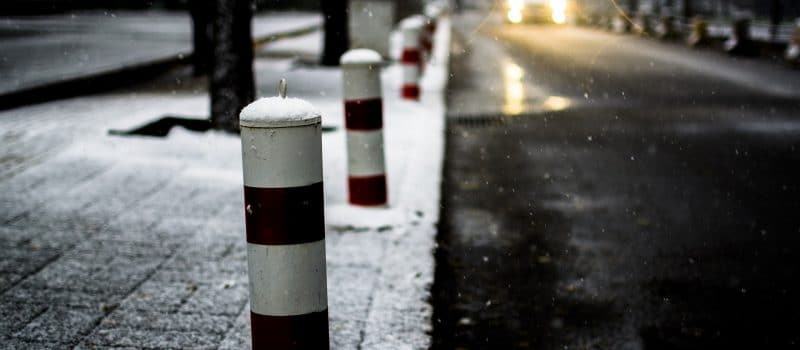 Slip and Fall Attorney Wins $800,000 Verdict for Woman Who Slipped and Fell on Ice and Snow Outside a Child Care Center While Picking Up Her Grandson
By Dean I. Weitzman, Esq. on January 25th, 2019
A grandmother who slipped and fell on ice and snow while picking up her grandson from a child care center in February of 2014 has been awarded an $800,000 verdict by a Court of Common Pleas jury in Luzerne County.
The woman, Joann Babbish, who was 66 when she slipped and fell on Feb. 4, 2014, outside the Pixie Paradise Child Care Center in West Hazelton, fractured her ankle and suffered back injuries in the fall, according to a Jan. 24 story on Law.com.
In a lawsuit filed against the daycare center and its owner, Deborah Rizzo, Babbish alleged that the daycare center was negligent in failing to properly clear the property of snow and ice, the story reported. Babbish alleged that she slipped and fell as she walked back to her car while carrying her grandson after getting him from the daycare center. Her husband had driven the couple to pick up their grandson.
"Babbish and her husband testified that there was a partially shoveled pathway to the daycare's entrance, but in order to access the pathway, a person had to step over an area on the sidewalk that was packed with accumulated snow," the story reported. "Babbish's counsel maintained that the daycare created an unintended obstacle by placing the shoveled snow curbside, where patrons were known to park, and by doing so it interfered with their entering and exiting the building."
Babbish went to a hospital emergency room that night due to pain and swelling and was diagnosed with a fracture of the right distal fibula and placed in a non-weight-bearing-cast for 10 weeks.
In April 2014,when her cast was removed, In April, by the time Babbish's cast was removed, she began experiencing low-back pain and went to an orthopedic surgeon diagnosed her with an exacerbation of degenerative disc disease in the lumbar spine, the story reported.  She was treated with physical therapy through August of 2014 and also had two epidural injections to her back. She also had chiropractic care for several months to treat her injuries, including massage and spinal manipulation.
In April of 2016 she had surgery, a laminectomy and fusion of intervertebral discs L3-4 and L4-5, to further treat her injuries, the story reported. The victim told the jury that she experiences constant back pain, which limits her activities of daily living.
While the jury awarded Babbish an $800,000 damage verdict, the jury also found her to be 20 percent liable for her injuries, according to the story. The daycare center was found to be 80 percent liable, reducing her award to $640,000.
Legal cases like this one occur around the nation every day and are examples of similar kinds of slip and fall accident cases that MyPhillyLawyer attorneys regularly work on tirelessly for our own clients. Often, we are not able to discuss the cases we are actively working on due to confidentiality requirements, so we discuss other relevant cases in the news such as this one to illustrate the legal situations people find themselves in every day.
When you need a slip and fall attorney, we here at MyPhillyLawyer stand ready to assist you with your legal case if you or a loved one is ever seriously injured in any kind of slip and fall, workplace injury, wrongful death or car crash in Philadelphia or anywhere in the United States. We pledge to make sure that you and your family get the compassionate, dogged and experienced legal representation that you deserve and expect from a professional legal team which works hard to uncover every fact to bolster your case and maximize your damage award.
We represent the families of victims who die in such tragedies as well, to ensure that their families receive every penny of damages that they are eligible to receive.
Talk to a Philadelphia slip and fall attorney at MyPhillyLawyer by calling 215-914-5471 or toll-free at 1-(866) 352-4572 anytime and our experienced, compassionate, aggressive team of attorneys and support staff will be there for you and your family every step of the way as we manage your case through the legal system.
When Winning Matters Most, Call MyPhillyLawyer.
Listen to Court Radio every Sunday at 7 a.m. with me, attorney Dean Weitzman of MyPhillyLawyer, on Philadelphia's Old School 100.3 WRNB, Boom 103.9 or on Classix 107.9 WPPZ FM. Listen to Court Radio online or on the radio every week for the latest on legal topics and to get answers to your legal questions. In addition to addressing the topical issues of the day, we'll answer caller questions on a wide range of legal issues.