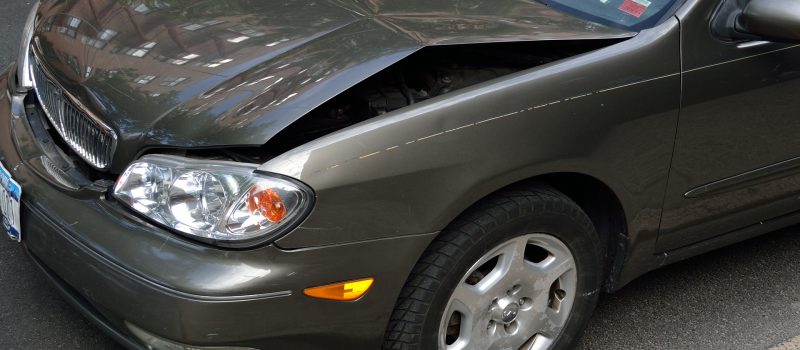 Philadelphia Car Accident Attorney MyPhillyLawyer Wins $500K Settlement for Man Who Was Injured While Riding as a Passenger in a Hotel Airport Van When It Was Rear-Ended
By Dean I. Weitzman, Esq. on February 22nd, 2019
A Philadelphia man who had flown to North Carolina in June of 2017 for work is receiving a $500,000 settlement from the owners of an Ohio trucking company after one of the company's  trucks smashed into the back of a hotel van he was riding in on the way to the hotel. The man's  case was handled by MyPhillyLawyer, which reached the settlement on behalf of the client.
The victim, whom I will call G.G., had flown to North Carolina for work when a 2016 Freightliner truck owned by BLS Trucking Inc. of New Carlisle, Ohio, smashed into the rear of a Ramada Hotel van carrying G.G. and three other passengers. The crash occurred on West Woodland Road near Wallingford Street in Mecklenburg, N.C., according to a local police report.
G.G., a truck driver who was 63 at the time of the crash, was sitting in the back row of seats in the hotel van, a 2014 Ford passenger van, when the Freightliner struck it. The hotel van's driver had stopped his vehicle and was waiting to turn left into the hotel's driveway when it was struck, according to the report. G.G. was traveling to pick up a truck for his employer that he would drive to another destination.
After the crash, G.G. did not seek immediate medical attention after being shaken up by the impact. Instead, when he got home after his trip, he saw his family doctor about his injuries. He then took over-the-counter pain medications for post-crash discomfort that soon progressively became worse.
After some four weeks, he sought additional medical attention for his crash injuries, which included shooting pains from his lower back into his legs. He was then treated for a lower back injury with a standard treatment  program including hot packs, cold packs, ultrasound and other care. Eventually he was given injections in his lower back from a pain management specialist for his continuing discomfort, but the injections did not result in relief.
He had attempted to go back to work driving a truck but was unable to work without pain.
Eventually, G.G. had to undergo a surgical procedure – a laminectomy – in October 2018, where a small incision was made in his lower back where a damaged disc was located so it could be cleaned it out to resolve the impingement of nerves. Following the surgery, G.G. was not completely pain-free, but his condition was improved.
G.G. brought his case to MyPhillyLawyer in 2018 after he continued to suffer from his ongoing injuries. We referred him to a specialist in worker's compensation as well so he could pursue damages for his inability to work following the crash. Since he was traveling to the hotel in North Carolina to pick up a truck to drive it for work, he was also entitled to worker's compensation for his injuries.
After taking the case, we at MyPhillyLawyer submitted our client's claims and prepared a settlement package which was sent to the insurance carrier for the trucking company whose driver had caused the crash.
Often times accident cases like this one can be amicably resolved without the need for litigation.
When the trucking company's insurance carrier received the settlement package and medical records documentation, the company's lawyer agreed to participate in an out-of-court mediation procedure to resolve the case. Using a private mediator in Philadelphia, both sides met all day earlier in February and reached a $500,000 settlement for G.G.
In addition, G.G.'s worker's compensation case was settled for $250,000 by MyPhillyLawyer, resulting in a total settlement for our client of $750,000 for what was a fairly typical vehicle crash with injuries.
That's what a lawyer with decades of experience in these kinds of cases can do for you if you or someone in your family is ever seriously injured in an auto accident.
We here at MyPhillyLawyer were able to success argue that although our client was 63 years old at the time of this crash that he had planned to work for the next five or six years, so his future  earnings and past and future medical expenses were all evaluated as part of the settlement. His doctor calculated what medical treatments the victim would continue to need as a result of the injuries and then this was shared with the defense to show how the injuries will substantially impact his life far into the future. His wife was also present throughout the mediation and she shared how her husband's injuries continue to affect their family.
We were able to demonstrate the full impacts of this life-changing crash on our client and help him receive a settlement that was fair for him.
This is a clear example of the kind of representation we provide every day here at MyPhillyLawyer. You want to make sure that if you are involved in an accident like this that you seek appropriate legal counsel to protect your rights and potential claims. What may not look like a serious injury at first after a crash could reveal more serious injuries following a serious crash.
This case could have settled quickly for an insurance company's low-ball offer of $10,000 to $15,000, but we gave it proper attention, worked hard on behalf of our injured client and helped him get a settlement that will allow him to receive ongoing treatment for his injuries.
Legal cases like this one occur around the nation every day and are examples of similar kinds of car crash cases that MyPhillyLawyer attorneys regularly work on tirelessly for our own clients. Often, we are not able to discuss the cases we are actively working on due to confidentiality requirements, so we discuss relevant cases in the news to illustrate the legal situations people find themselves in every day. In this case, we did not use the victim's name to protect his identity.
When you need a car accident injury attorney, we here at MyPhillyLawyer stand ready to assist you with your legal case if you or a loved one is ever seriously injured in any kind of car crash, slip and fall, workplace injury or wrongful death in Philadelphia or anywhere in the United States. We pledge to make sure that you and your family get the compassionate, dogged and experienced legal representation that you deserve and expect from a professional legal team which works hard to uncover every fact to bolster your case and maximize your damage award.
We represent the families of victims who die in such tragedies as well, to ensure that their families receive every penny of damages that they are eligible to receive.
Talk to a Philadelphia car crash attorney at MyPhillyLawyer by calling 215-914-5471 or toll-free at 1-(866) 352-4572 anytime and our experienced, compassionate, aggressive team of attorneys and support staff will be there for you and your family every step of the way as we manage your case through the legal system.
When Winning Matters Most, Call MyPhillyLawyer.
Listen to Court Radio every Sunday at 7 a.m. with me, attorney Dean Weitzman of MyPhillyLawyer, on Philadelphia's Old School 100.3 WRNB, Boom 103.9 or on Classix 107.9 WPPZ FM. Listen to Court Radio online or on the radio every week for the latest on legal topics and to get answers to your legal questions. In addition to addressing the topical issues of the day, we'll answer caller questions on a wide range of legal issues.