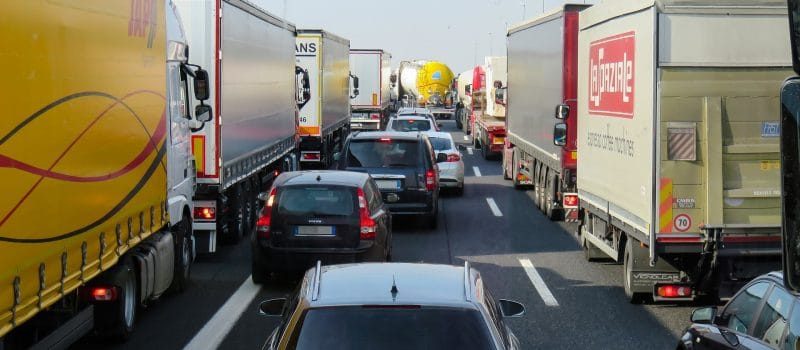 Truck Accident Lawyer Wins $125K Verdict for Man Who Suffered Serious Neck and Back Injuries When His SUV Was Struck By a Turning Tractor-Trailer
By Dean I. Weitzman, Esq. on March 22nd, 2019
A driver who was seriously injured when his SUV was struck by a turning tractor-trailer in Pittsburgh in 2013 has been awarded a $125,000 verdict by a jury in Allegheny County.
The SUV driver, 62-year-old Arnold Perry, was stopped in traffic on 16th Street near Penn Avenue on Dec. 12, 2013, when a tractor-trailer turning onto Penn Avenue struck the rear of Perry's SUV on the driver's side, according to a March 21 story on Law.com.
Perry suffered serious neck and back injuries in the crash, which was caused when the tractor-trailer, which had been traveling northbound on 16th Street, crossed into Perry's lane and smashed into his SUV, the story reported.
Following the crash, the victim was taken by ambulance to a hospital where he was admitted with complaints of pain to his neck and lower back, according to the story. He was diagnosed with strains to his cervical and lumbar spine, a sprain to his thoracic spine and lumbar disc disease.
He was treated by doctors over the next four months with physical therapy and over-the-counter pain medicines and had restrictions on his physical activities. He also consulted with a doctor who had performed a lumbar fusion and discectomy on him in June of 2011, the story reported. After additional testing, he was diagnosed with a herniation at lumbar intervertebral disc L1-2, right-sided radiculopathy stemming from L1-2 and an aggravation of degenerative changes at L1-2, L3-4, L4-5 and L5-S1. The victim was further treated with pain medication.
Following the crash, Perry sued the driver of the tractor-trailer, Curtis Pulliam, and the trucker's employer, P&S Transportation, alleging that Pulliam was negligent in the operation of the truck, the story reported. The lawsuit also alleged that P&S Transportation was vicariously liable for Pulliam's actions.
The defendants stipulated to liability and the case was tried on the issues of causation and damages.
"Perry's physician testified that the accident caused him to suffer a traumatically-induced herniation and radiculopathy at L1-2, and an aggravation of his pre-existing lumbar condition," according to the report. "The victim testified that he continues to experience ongoing back pain and radicular pain in his right leg. He stated that it is more challenging to perform some household chores and that he has difficulty standing and walking for long periods."
The Allegheny Court of Common Pleas jury ruled in favor of Perry and awarded him $125,000 after finding that the defendants' negligence was a factual cause of harm to Perry.
Legal cases like this one occur around the nation every day and are examples of similar kinds of car and truck accident cases that MyPhillyLawyer attorneys regularly work on tirelessly for our own clients. Often, we are not able to discuss the cases we are actively working on due to confidentiality requirements, so we discuss other relevant cases in the news such as this one to illustrate the legal situations people find themselves in every day.
When you need a truck accident injury attorney, we here at MyPhillyLawyer stand ready to assist you with your legal case if you or a loved one is ever seriously injured in any kind of car crash, slip and fall, workplace injury or wrongful death in Philadelphia or anywhere in the United States. We pledge to make sure that you and your family get the compassionate, dogged and experienced legal representation that you deserve and expect from a professional legal team which works hard to uncover every fact to bolster your case and maximize your damage award.
We represent the families of victims who die in such tragedies as well, to ensure that their families receive every penny of damages that they are eligible to receive.
Talk to a Philadelphia car crash attorney at MyPhillyLawyer by calling 215-914-5471 or toll-free at 1-(866) 352-4572 anytime and our experienced, compassionate, aggressive team of attorneys and support staff will be there for you and your family every step of the way as we manage your case through the legal system.
When Winning Matters Most, Call MyPhillyLawyer.
Listen to Court Radio every Sunday at 7 a.m. with me, attorney Dean Weitzman of MyPhillyLawyer, on Philadelphia's Old School 100.3 WRNB, Boom 103.9 or on Classix 107.9 WPPZ FM. Listen to Court Radio online or on the radio every week for the latest on legal topics and to get answers to your legal questions. In addition to addressing the topical issues of the day, we'll answer caller questions on a wide range of legal issues.