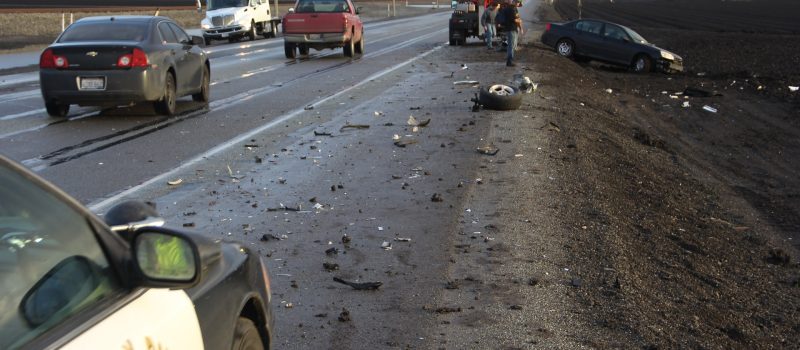 Car Crash Attorney Wins $10 Million Jury Verdict for Families of 2 Teen Girls Killed in Head-On Crash With an RV in Florida That Was Being Operated by a 99-Year-Old Driver
By Dean I. Weitzman, Esq. on April 29th, 2019
A $10 million verdict has been awarded to two grieving Florida families after their two teen-aged daughters were killed in February 2018 when the pickup truck they were driving in was struck head-on by an RV being operated by a 99-year-old man on a Florida highway.
The victims, Santia Myriah Feketa, 17, who was driving a Chevrolet Silverado pickup, and her friend, Britney Lee Poindexter, 16, were both killed on Feb. 6, 2018, when the RV, which was being driven by 99-year-old Walter Roney, smashed head-on into their truck, according to an April 10 story by The Palm Beach Post.
Roney, a trucking executive and developer from Michigan, was driving the 40-foot-long RV the wrong way on State Road 70 in Fort Pierce, Fla, when the crash occurred, the story reported. The road was a divided highway and Roney was driving westbound in the eastbound lanes. Police later determined that Roney did not have the headlights of the RV turned on when the crash happened.
The girls were heading to go roller skating when they were killed. Roney died three days after the crash. His girlfriend, 75-year-old Carolyn Bruns, was in the RV with him and was seriously injured. They allegedly were driving to the west coast of Florida to have the interior lights and headlights fixed on the RV because they were not operating properly, the story reported.
The families of both teenagers sued Roney's estate.
Some members of Roney's family had previously taken his vehicle keys after they became increasingly worried about his mental competence and his driving ability in the past, the story reported.
"Roney, who had memory problems, poor eyesight, limited hearing and a host of other ailments, in 2017 was prohibited by his neuropsychologist from driving until he received a medical evaluation and passed Michigan's driving test," according to court papers filed in the case.
Roney had reportedly passed a Michigan driver's test in January 2018, about a month before the fatal crash, the story reported. Despite that approval, the attorneys for Roney's estate "acknowledged that Roney was at fault for the crash," the story continued.
After hearing testimony in the case, the jury decided that each of the four parents of the two teens – Yvonne and Todd Poindexter and Stewart Feketa and Stacy West – should receive $2.5 million each in damages.
Carolyn Bruns, Roney's girlfriend, also agreed to pay $1 million before the trial to the parents of the teenagers to settle claims that she was also responsible for the crash, the story reported. Attorneys for the plaintiffs had argued that Bruns was serving as Roney's "visual spotter" and caregiver in the RV and could have taken action that could have saved the girls from the crash, according to the story.
Legal cases like this one occur around the nation every day and are examples of similar kinds of car crash cases that MyPhillyLawyer attorneys regularly work on tirelessly for our own clients. Often, we are not able to discuss the cases we are actively working on due to confidentiality requirements, so we discuss other relevant cases in the news such as this one to illustrate the legal situations people find themselves in every day.
When you need a car accident injury attorney, we here at MyPhillyLawyer stand ready to assist you with your legal case if you or a loved one is ever seriously injured in any kind of car crash, slip and fall, workplace injury or wrongful death in Philadelphia or anywhere in the United States. We pledge to make sure that you and your family get the compassionate, dogged and experienced legal representation that you deserve and expect from a professional legal team which works hard to uncover every fact to bolster your case and maximize your damage award.
We represent the families of victims who die in such tragedies as well, to ensure that their families receive every penny of damages that they are eligible to receive.
Talk to a Philadelphia car crash attorney at MyPhillyLawyer by calling 215-914-5471 or toll-free at 1-866-920-0352 anytime and our experienced, compassionate, aggressive team of attorneys and support staff will be there for you and your family every step of the way as we manage your case through the legal system.
When Winning Matters Most, Call MyPhillyLawyer.
Listen to Court Radio every Sunday at 7 a.m. with me, attorney Dean Weitzman of MyPhillyLawyer, on Philadelphia's Old School 100.3 WRNB, Boom 103.9 or on Classix 107.9 WPPZ FM. Listen to Court Radio online or on the radio every week for the latest on legal topics and to get answers to your legal questions. In addition to addressing the topical issues of the day, we'll answer caller questions on a wide range of legal issues.