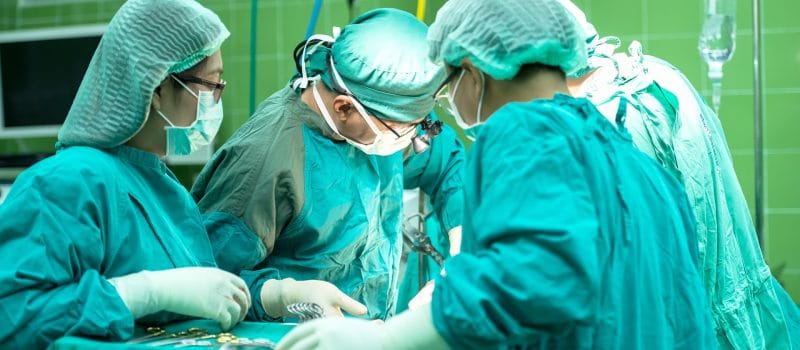 Personal Injury Lawyer Wins $22.5M Medical Malpractice Settlement for Family of a 6-Week-Old Baby Who Suffered Permanent Brain Damage Due to Oxygen Deprivation During Surgery
By Dean I. Weitzman, Esq. on May 19th, 2019
A Wisconsin family has reached a $22.5 million medical malpractice damage settlement after their 6-week-old son suffered brain damage following surgery to correct a birth defect involving his spinal cord.
The boy's parents, Ramasurreddy and Neeraja Mallidi, of Fitchburg, Wisc., had taken their infant son to the University Of Wisconsin Health System's American Family Children's Hospital to correct a tethered spinal cord, in which the boy's spinal cord was stuck to surrounding tissue, according to an April 25 story in the Wisconsin State Journal.
The surgery corrected the birth defect, but the child, Venkatasathvik Mallidi, who is now three years old, suffered permanent brain damage due to problems with the anesthesia administered during the surgery by a hospital resident, the story reported. The anesthesia issues resulted in oxygen deprivation during the procedure.
The family sued the hospital and the resident, Dr. Michael Chalifoux, who was completing his last year of residency in anesthesia at the time, alleging that Chalifoux "failed to react appropriately to prolonged low blood pressure readings" for the patient, the story states. The suit was filed in Dane County Circuit Court.
The child is blind, can't walk or speak and will likely function permanently at the level of a 2-year-old due to his injuries, according to the family's attorney.
The settlement is being paid by Wisconsin's Injured Patients and Families Compensation Fund, the story states. The state oversees the fund, which covers malpractice payments of more than $1 million for all doctors in Wisconsin.
Most of the $22.5 million is being placed into two accounts for the child's long-term care, with nearly $1.9 million going to his parents and $4.5 million to the family's attorneys.
Legal cases like this one occur around the nation every day and are examples of similar kinds of medical malpractice or personal injury cases that MyPhillyLawyer attorneys regularly work on tirelessly for our own clients. Often, we are not able to discuss the cases we are actively working on due to confidentiality requirements, so we discuss other relevant cases in the news such as this one to illustrate the legal situations people find themselves in every day.
When you need a medical malpractice or personal injury lawyer, we here at MyPhillyLawyer stand ready to assist you with your legal case if you or a loved one is ever seriously injured in any kind of medical procedure, car crash, slip and fall, workplace injury or wrongful death in Philadelphia or anywhere in the United States. We pledge to make sure that you and your family get the compassionate, dogged and experienced legal representation that you deserve and expect from a professional legal team which works hard to uncover every fact to bolster your case and maximize your damage award.
We represent the families of victims who die in such tragedies as well, to ensure that their families receive every penny of damages that they are eligible to receive.
Talk to a Philadelphia medical malpractice attorney at MyPhillyLawyer by calling 215-914-5471 or toll-free at 1-(866) 352-4572 anytime and our experienced, compassionate, aggressive team of attorneys and support staff will be there for you and your family every step of the way as we manage your case through the legal system.
When Winning Matters Most, Call MyPhillyLawyer.
Listen to Court Radio every Sunday at 7 a.m. with me, attorney Dean Weitzman of MyPhillyLawyer, on Philadelphia's Old School 100.3 WRNB, Boom 103.9 or on Classix 107.9 WPPZ FM. Listen to Court Radio online or on the radio every week for the latest on legal topics and to get answers to your legal questions. In addition to addressing the topical issues of the day, we'll answer caller questions on a wide range of legal issues.