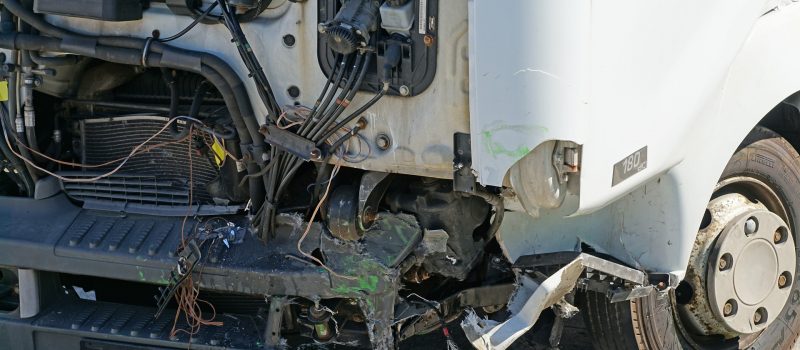 Car Accident Lawyer Wins $26.5M Verdict for Family of Woman Killed When Her Car Was Struck Head-On by a Tractor-Trailer Driver Who Was Racing, Speeding and Driving Aggressively with Two Other Tractor-Trailer Drivers and a Motorhome Driver
By Dean I. Weitzman, Esq. on May 25th, 2019
The family of a 30-year-old woman who died in Oregon in 2016 when her car was struck head-on by a tractor-trailer that was racing and speeding with two other tractor-trailers and a motorhome has been awarded a $26.5 million verdict by a federal jury.
The victim, Sara Allison, of Boise, Idaho, died on June 5, 2016, when her car was struck by a flat bed tractor-trailer being driven by James Decou, who was driving the truck for Smoot Brothers Transportation of Utah, according to a May 21 story on OregonLive. The crash occurred on U.S. 20 as Allison drove east just outside of Burns, Ore. She died at the scene of the crash.
"Decou was heading west on the highway and trying to pass another truck that was speeding up and slowing down to keep Decou from getting around him," the story reported. Allison was driving a small Ford Focus automobile as she came around a bend and found Decou's truck heading directly toward her about 8:45 p.m., the report continued.
Decou "had been racing, speeding, aggressively honking, brake-checking and cutting off Jonathan Hogaboom, the driver of a motorhome for Wakarusa, Indiana-based Horizon Transport," according to testimony in the trial. "Hogaboom had kept Decou from getting back into the westbound lane."
Earlier that day, Decou had been involved in similar aggressive "cat-and-mouse" driving with two other Smoot Brothers tractor-trailer drivers, the story reported. Those drivers, Peter Barnes and Cory Frew, participated in similar driving for more than 90 miles on the highway, according to lawyers for the plaintiffs. "Hogaboom had been instructed by his company to stay off Highway 20 in Oregon and drove off from the crash scene," the story reported.
Sara Allison's husband, Matthew Allison, was also in the car and was severely injured, suffering broken ribs, a lacerated spleen and a concussion. He underwent surgery at a nearby hospital after being flown by a medical helicopter.
The Allisons had spent a day in Portland, Ore., where they attended a concert to celebrate his blood cancer remission and then drove to visit Crater Lake, the story said. The crash occurred as they drove home from Crater Lake to Idaho.
In Oregon, where the crash occurred, the state has a wrongful death cap of $500,000, but the judge in the case, U.S. District Judge Patricia Sullivan, allowed the jury to award damages by applying the law from Idaho, where the Allisons lived. After deliberating for five hours following a two-week trial, the jury returned its $26.5 million verdict.
Just prior to the verdict being reached, the Smoot Brothers trucking company reached a separate $900,000 settlement with the woman's estate in the case, the report states. That left Horizon Transport responsible for the rest of the $26.5 million verdict.
Smoot Brothers fired its drivers who were involved in the crash, while Decou pleaded guilty to second-degree manslaughter and was sentenced to 75 months in prison, according to the story.
Legal cases like this one occur around the nation every day and are examples of similar kinds of car and truck crash cases that MyPhillyLawyer attorneys regularly work on tirelessly for our own clients. Often, we are not able to discuss the cases we are actively working on due to confidentiality requirements, so we discuss other relevant cases in the news such as this one to illustrate the legal situations people find themselves in every day.
When you need a truck accident injury attorney, we here at MyPhillyLawyer stand ready to assist you with your legal case if you or a loved one is ever seriously injured in any kind of car or truck crash, slip and fall, workplace injury or wrongful death in Philadelphia or anywhere in the United States. We pledge to make sure that you and your family get the compassionate, dogged and experienced legal representation that you deserve and expect from a professional legal team which works hard to uncover every fact to bolster your case and maximize your damage award.
We represent the families of victims who die in such tragedies as well, to ensure that their families receive every penny of damages that they are eligible to receive.
Talk to a Philadelphia car crash attorney at MyPhillyLawyer by calling 215-914-5471 or toll-free at 1-866-907-2231 anytime and our experienced, compassionate, aggressive team of attorneys and support staff will be there for you and your family every step of the way as we manage your case through the legal system.
When Winning Matters Most, Call MyPhillyLawyer.
Listen to Court Radio every Sunday at 7 a.m. with me, attorney Dean Weitzman of MyPhillyLawyer, on Philadelphia's Old School 100.3 WRNB, Boom 103.9 or on Classix 107.9 WPPZ FM. Listen to Court Radio online or on the radio every week for the latest on legal topics and to get answers to your legal questions. In addition to addressing the topical issues of the day, we'll answer caller questions on a wide range of legal issues.