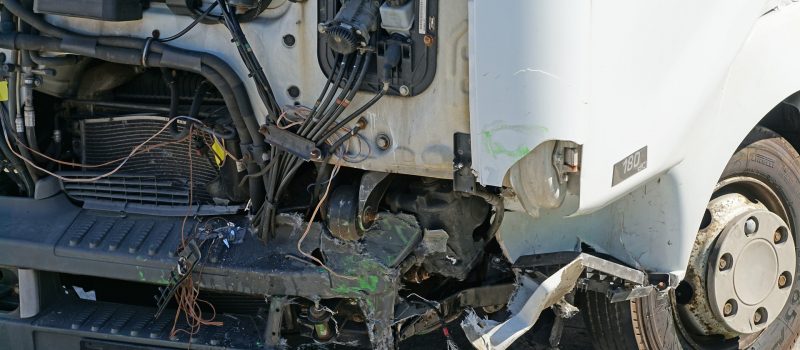 Car Crash Lawyer Wins $80M Verdict for Truck Driver Forced By Employer to Falsify His Driving Logbook Before a Fatigue-Induced Traffic Accident
By Dean I. Weitzman, Esq. on June 17th, 2019
A tractor-trailer driver who was told by his trucking company to falsify his driving logbook to make it appear that he was well-rested between long-distance deliveries has been awarded an $80 million verdict by a Texas jury.
The driver, Lauro Lozano Jr., fell asleep at the wheel and crashed into the rear of another tractor-trailer on May 6, 2015 on northbound Interstate 59 in Alabama after he followed his company's instructions and falsified his driving logbook, according to a May 9 story on CLDLife.com.
Lozano was seriously injured in the crash and contended that he feared the loss of his job if he did not do as his supervisors ordered in altering his logbook.
According to his lawsuit, Lozano had returned to his employer's trucking depot in McAllen, Texas, about 3 p.m. on May 3, 2015 after delivering a shipment to San Antonio, Texas. He then went home to rest to meet the requirements of federal laws which require commercial truck drivers to rest a minimum of 34 hours before making another long-distance delivery, according to the lawsuit. Lozano drove tractor-trailers for several related companies, including JNM Express LLC, Omega Freight Logistics LLC and Anca Transport. Omega and Anca are under the control of Jorge and Silvia Marin.
But a few hours after the driver had returned home, he received a phone call from Jorge Marin telling him that he would have to take a different load of freight to Maryland the next morning for Omega Freight, the complaint continued.
Lozano said he resisted the request, telling Marin that he recently returned home from the last run to San Antonio and that he could not safely or legally drive the next load until a later date, the suit continued.
"Jorge Marin instructed Plaintiff to alter his logbook to make it appear as though he had taken the 34-hour rest period and instructed him to return to the [trucking company] the next morning to run the shipment to Maryland," the suit stated. Lozano went to his job at 5 a.m. the next morning because he was fearful of being fired if he did not obey.
While driving through Alabama on the way to Maryland, Lozano fell asleep at the wheel and rear-ended another tractor-trailer on Interstate 59. His attorneys argued that he had been forced to make the trip in violation of federal driving laws due to pressure from his employers.
After hearing testimony in the case, a jury in Hidalgo County, Texas, unanimously ruled in favor of Lozano, awarding him $5 million for pain and suffering endured during and after the crash, as well as punitive damages of $25 million from each of the three trucking companies operated by Jorge Marin, the report stated.
Legal cases like this one occur around the nation every day and are examples of similar kinds of car and truck crash cases that MyPhillyLawyer attorneys regularly work on tirelessly for our own clients. Often, we are not able to discuss the cases we are actively working on due to confidentiality requirements, so we discuss other relevant cases in the news such as this one to illustrate the legal situations people find themselves in every day.
When you need a truck accident injury attorney, we here at MyPhillyLawyer stand ready to assist you with your legal case if you or a loved one is ever seriously injured in any kind of car or truck crash, slip and fall, workplace injury or wrongful death in Philadelphia or anywhere in the United States. We pledge to make sure that you and your family get the compassionate, dogged and experienced legal representation that you deserve and expect from a professional legal team which works hard to uncover every fact to bolster your case and maximize your damage award.
We represent the families of victims who die in such tragedies as well, to ensure that their families receive every penny of damages that they are eligible to receive.
Talk to a Philadelphia car crash attorney at MyPhillyLawyer by calling 215-914-5471 or toll-free at 1-866-907-2231 anytime and our experienced, compassionate, aggressive team of attorneys and support staff will be there for you and your family every step of the way as we manage your case through the legal system.
When Winning Matters Most, Call MyPhillyLawyer.
Listen to Court Radio every Sunday at 7 a.m. with me, attorney Dean Weitzman of MyPhillyLawyer, on Philadelphia's Old School 100.3 WRNB, Boom 103.9 or on Classix 107.9 WPPZ FM. Listen to Court Radio online or on the radio every week for the latest on legal topics and to get answers to your legal questions. In addition to addressing the topical issues of the day, we'll answer caller questions on a wide range of legal issues.