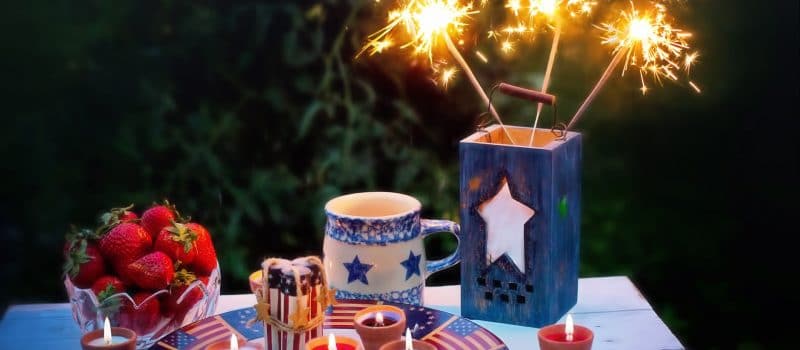 MyPhillyLawyer Philadelphia Car Crash Attorneys Offer July 4 Safety Tips
By Dean I. Weitzman, Esq. on June 28th, 2019
As the July 4th holiday weekend approaches, Philadelphia's car crash attorneys, MyPhillyLawyer, wants to remind our friends and clients to enjoy the holiday week safely, whether you are taking a road trip, heading to the beach, having family and friends over for a BBQ or relaxing at a swimming pool.
The July 4th weekend may be fun and relaxing, but there are also some somber reminders that can help the holidays be more enjoyable and safer with the addition of some good common sense.
Driving Safety on the 4th
The National Safety Council has estimated that some 565 people may be killed on the nation's roadways during the upcoming July 4th holiday period between July 3 and July 7, while another 64,500 people may be seriously injured in crashes, based on data collected over past holidays.
The agency warns drivers to be particularly vigilant about impaired drivers who will be on the roads and reminds drivers to designate sober drivers within their groups of friends so they can stay safe. During the 2017 Independence Day holiday period, 39% of fatalities involved an alcohol-impaired driver, the highest percentage among all the major holidays, the agency reported.
"As we celebrate one of our country's most cherished holidays, we have to keep safety in mind," Lorraine M. Martin, president and CEO of the National Safety Council, said in a statement. "Sober and attentive driving could be the difference between watching fireworks and watching ambulance lights."
To protect themselves and their families, drivers should remember to drive defensively, always wear a seatbelt, designate a sober driver or arrange alternative transportation, get plenty of sleep to avoid fatigue and drive attentively while avoiding distracted driving.
Also important is that drivers should always check the back seat of their vehicles before locking them to ensure that no young children have accidentally been left behind, the agency said. At least 11 children have died already this year by being left behind in hot cars.
Don't make calls or text while driving. Any form of impaired driving poses a serious threat to those on the road.
Don't Forget Fireworks Safety
The U.S. Consumer product Safety Commission (CPSC) also has some important safety reminders for July 4 holiday revelers, especially when it comes to using over-the-counter fireworks.
"CPSC works year-round to help prevent deaths and injuries from fireworks, by verifying fireworks meet safety regulations in our ports, marketplace and on the road," Ann Marie Buerkle, the acting chairman of the CPSC, said in a statement. "Beyond CPSC's efforts, we want to make sure everyone takes simple safety steps to celebrate safely with their family and friends."
An estimated 9,100 fireworks-related emergency department-treated injuries occurred in 2018, with 62 percent of them happening during the month surrounding the Fourth of July (June 22-July 22). During that period, firecrackers were the number one cause of injuries, accounting for 19 percent of the estimated injuries, according to the CPSC. For children under 5 years of age, sparklers accounted for more than half of the total estimated injuries.
At least five people were killed by fireworks in 2018, but the reporting statistics have not yet been finalized so the death toll could be higher. The victims ranged in age from 16 to 49. In one of the reported cases, an 18-year-old launched a mortar shell from a tube on the top of his head, which exploded rather than taking off into the sky. He died in the hospital the next day, the agency reported. Some 121 fireworks-related deaths occurred in the U.S. between 2003 and 2018.
Remember, even if your consumer fireworks are legal, they still come with risk. If you light fireworks, keep safety in mind for you, your family and those around you.
Consumers should check their local laws to learn whether consumer fireworks are legal in their neighborhoods before buying or using them, the agency stressed. Users should never place any part of their body directly over a fireworks device when lighting the fuse and should always move to a safe distance immediately after lighting fireworks.
Users should also never point or throw fireworks at another person or into an occupied area. Remember to only light fireworks one at a time, then move away from them quickly, while also keeping a bucket of water or a garden hose handy, in case of fire or other mishap. In addition, never try to relight or handle malfunctioning fireworks. Instead, they should be soaked in water and thrown away safely.
Pool Safety
The CPSC also recommends that holiday revelers practice common sense safety around swimming pools and on the beach this summer, as well as while they are cooking on BBQ grills.
Drowning remains the leading cause of unintentional death among children ages 1-4 and is the second leading cause among children ages 5-14, according to the agency.
To prevent drownings, adults should remember to NEVER leave a child unattended in a pool or spa and to keep children away from pool drains, which can easily and tragically pull a child to his or her death. Adults should learn how to swim and should also teach their children how to swim for their own safety.
Pool owners should completely fence the perimeter around their pool – by closing off the pool to children who could wander into your yard, you can prevent accidental drownings and protect yourself from liability.
Pool owners should also be sure that all young children playing near pools are wearing life vests – if a child should accidentally fall into a pool, they will be better protected by wearing an approved life vest. Also important is to always keep rescue equipment by the pool, including a life ring and rope, a first aid kit and flotation devices.
As a homeowner with a pool, you must be vigilant, pro-active and firm about setting safety rules and enforcing them so that guests and family members aren't accidentally injured or worse.
Grill Safety
Even barbecue grills can cause injuries if they are used improperly or mixed with the consumption of alcoholic beverages. Improper equipment, poor safety rules, carelessness and other factors can cause injuries to adults and children who come near hot grills and outdoor cooking areas.
To prevent injuries and potential legal liability, be sure to perform some basic outdoor grill safety steps while cooking outdoors over the holidays, including grill safety checks to ensure there are no gas leaks before lighting the devices and making sure that grills are never used indoors where they can cause fires or cause accidental asphyxiation.
Grills should never be left unattended and children should always be kept at a safe distance from hot grills, according to the CPSC reminders. In addition, never use grill cleaning brushes that use wire strands to clean the grill because the strands can break off and be eaten by a guest, causing serious injuries and medical problems.
And don't forget about the potential dangers of food poisoning when dining outdoors in the heat of summer. Be extra careful to make sure that foods made with mayonnaise, including coleslaw and potato salad, are kept chilled and out of direct sunlight so they don't spoil and cause illnesses to guests, and don't leave uncooked meats out in the summer heat for long periods of time before that are cooked. Many a holiday has been ruined at private parties, restaurants and other facilities due to food that has spoiled and caused serious illnesses for guests, while raising serious legal claims that you certainly want to avoid.
Have Fun and Be Safe:
Remember this holiday weekend to enjoy yourself with friends and family, but also use caution to prevent tragedies and legal liability from accidents and injuries that can occur in a wide variety of ways.
Don't drink and drive, be sure to drive safely, use caution when cooking out, watch your children and guests in your swimming pool and be extra careful around fireworks.
Here at MyPhillyLawyer, we handle a wide range of legal cases every day, including car and truck crash cases, slip and fall injuries, medical malpractice cases, wrongful death cases, workplace injuries, estate proceedings and much more.
When you need a car accident injury attorney, we here at MyPhillyLawyer stand ready to assist you with your legal case if you or a loved one is ever seriously injured in Philadelphia or anywhere in the United States. We pledge to make sure that you and your family get the compassionate, dogged and experienced legal representation that you deserve and expect from a professional legal team which works hard to uncover every fact to bolster your case and maximize your damage award.
We represent the families of victims who die in such tragedies as well, to ensure that their families receive every penny of damages that they are eligible to receive.
Talk to a Philadelphia car crash attorney at MyPhillyLawyer by calling 215-914-5471 or toll-free at 1-866-907-2231 anytime and our experienced, compassionate, aggressive team of attorneys and support staff will be there for you and your family every step of the way as we manage your case through the legal system.
When Winning Matters Most, Call MyPhillyLawyer.
Listen to Court Radio every Sunday at 7 a.m. with me, attorney Dean Weitzman of MyPhillyLawyer, on Philadelphia's Old School 100.3 WRNB, Boom 103.9 or on Classix 107.9 WPPZ FM. Listen to Court Radio online or on the radio every week for the latest on legal topics and to get answers to your legal questions. In addition to addressing the topical issues of the day, we'll answer caller questions on a wide range of legal issues.