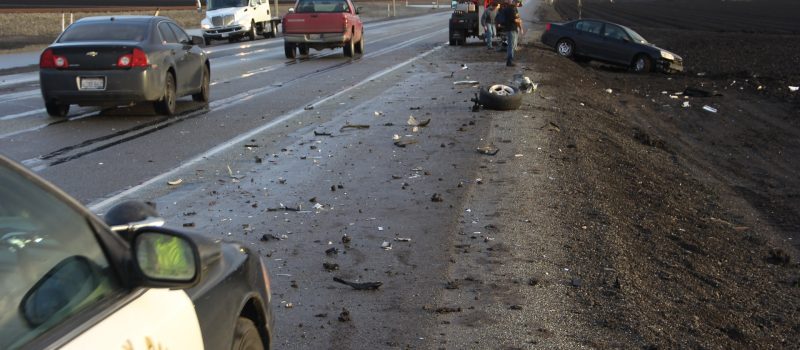 Car Accident Lawyer Reaches $1.53M Settlement for Family Of Motorcyclist Killed in Crash With Skid-Steer Loader
By Dean I. Weitzman, Esq. on July 19th, 2019
The family of a 55-year-old Pennsylvania motorcyclist who was killed in 2016 when his motorcycle struck a skid-steer loader that was being used to clean up a street has reached a $1.53 million settlement in the case.
William Moon Jr. was riding his motorcycle east on Bredinsburg Road in Oil City in western Pennsylvania on Oct. 4, 2016, when he crashed into the skid-steer loader that had apparently created a cloud of dust as it was being used to clean up a buildup of mud on the road, according to a July 11 story on Law.com. Moon suffered fatal injuries due to the collision and his fall from the motorcycle.
In a lawsuit filed by Moon's widow, the family sued Michael Brown, who was operating the skid-steer loader and Brown's employer, Clint Brown & Sons Inc., the story reported. Also sued by the family was Seneca Resources Corp., which owned an adjacent property that Brown was cleaning at the time of the crash, and the company that hired Brown's company to perform the cleaning, Catalyst Energy Inc.
The wrongful death lawsuit alleged that Brown was negligent in operating the skid-steer loader and that the remaining defendants were vicariously liable for Brown's actions.
The plaintiffs alleged that Brown lacked the experience to perform the work he was doing and that the cloud of dust he was raising as he performed the work completely blocked Moon's view of the skid-steer loader on the roadway. The lawsuit also alleged that Catalyst violated safety regulations by sending Brown to operate a large piece of machinery with a road sweeper to clean a buildup of mud on Bredinsburg Road and that the company failed to bring in flag people and warning signs to let drivers know of the dangers at the work site.
An expert engineer for the plaintiffs argued that those shortcomings were the proximate cause of the accident and that had the safety steps been provided the crash would likely not have happened.
After the crash he was flown by medical helicopter to a hospital where he was pronounced dead "He was diagnosed with significant blunt force trauma to his head, neck and trunk; a laceration of his lower frontal scalp; depressed and comminuted fractures of the frontal bone of his skull, with extension to the orbital bones and anterior base of the skull; lacerations and contusions of the frontal lobes of his brain; fractures of the T2 vertebra and pelvis; and multi-compartmental intracranial hemorrhages of his brain, including subdural, subarachnoid, intra-parenchymal and intraventricular hemorrhages," according to the story. The victim is survived by his wife, two children and two grandchildren.
The case was scheduled in the Allegheny County Court of Common Pleas.
Under the settlement, Seneca Resources, which was self-insured, agreed to pay $30,000. Catalyst Energy's insurer agreed to pay $815,000 and the insurer for Clint Brown & Sons Inc. agreed to pay $685,000.
Legal cases like this one occur around the nation every day and are examples of similar kinds of car crash cases that MyPhillyLawyer attorneys regularly work on tirelessly for our own clients. Often, we are not able to discuss the cases we are actively working on due to confidentiality requirements, so we discuss other relevant cases in the news such as this one to illustrate the legal situations people find themselves in every day.
When you need a motorcycle or car accident injury attorney, we here at MyPhillyLawyer stand ready to assist you with your legal case if you or a loved one is ever seriously injured in any kind of vehicle crash, slip and fall, workplace injury or wrongful death in Philadelphia or anywhere in the United States. We pledge to make sure that you and your family get the compassionate, dogged and experienced legal representation that you deserve and expect from a professional legal team which works hard to uncover every fact to bolster your case and maximize your damage award.
We represent the families of victims who die in such tragedies as well, to ensure that their families receive every penny of damages that they are eligible to receive.
Talk to a Philadelphia car crash attorney at MyPhillyLawyer by calling 215-914-5471 or toll-free at 1-866-920-0352 anytime and our experienced, compassionate, aggressive team of attorneys and support staff will be there for you and your family every step of the way as we manage your case through the legal system.
When Winning Matters Most, Call MyPhillyLawyer.
Listen to Court Radio every Sunday at 7 a.m. with me, attorney Dean Weitzman of MyPhillyLawyer, on Philadelphia's Old School 100.3 WRNB, Boom 103.9 or on Classix 107.9 WPPZ FM. Listen to Court Radio online or on the radio every week for the latest on legal topics and to get answers to your legal questions. In addition to addressing the topical issues of the day, we'll answer caller questions on a wide range of legal issues.