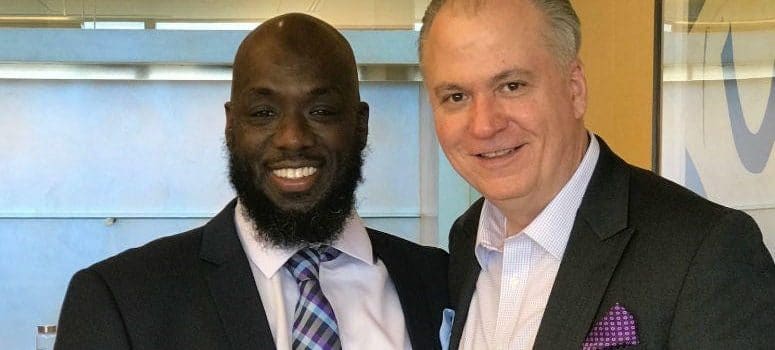 Philadelphia Man Gets $4.15M Settlement in Civil Rights Lawsuit After Spending 24 Years in Prison for a Murder He Did Not Commit
By Dean I. Weitzman, Esq. on January 17th, 2020
(Photo above, Shaurn Thomas, left, and attorney, James Figorski)
Shaurn Thomas was just a 16-year-old boy in 1990 when he was arrested by two Philadelphia police detectives and charged with murdering a man in North Philadelphia. After his arrest, the detectives and the legal system didn't listen to his alibi – that he was in custody at a juvenile detention facility at the time of the killing – as the detectives pushed their own agendas to get Thomas convicted and sent to prison with a mandatory life sentence without parole.
But that was all before.
In May of 2017, after long years of painstaking investigations and legal work on his behalf, Thomas was finally exonerated in connection with the murder and was released from prison after 24 years behind bars. In September of 2017 he filed a civil rights lawsuit against the city seeking damages for being put into prison due to a wrongful conviction.
It took until January of 2020 for Thomas to finally get his due – the City of Philadelphia is now paying him a $4.15 million settlement to end his legal claims against the city, according to a Jan. 2 report by KYW Newsradio.
Today, Thomas, who is now 45 years old, spoke to MyPhillyLawyer about his case and his experiences in fighting to regain his freedom. While in prison, he kept his mind active fighting for his life by doing his own legal research and filing legal papers when he was able, he said. Each day, he worked to keep himself together so he could survive in prison.
"It was hard," said Thomas. "I stayed focused on my beliefs. I tried to stay positive but as a young man I had so much anger in me. At night time it was worse because I would think about it."
All through his years in prison, Thomas worked to educate himself about the law and the legal process and looked into what he could do to fight what he knew was a fabricated conviction.
"I couldn't do much at that point because I was so young," said Thomas. "My maturity didn't come until later."
It was a daunting time for Thomas. The two Philadelphia police detectives who had arrested him in 1990, Martin Devlin and Paul Worrell, generated what turned out to be false evidence that accused Thomas and his brother of the murder, the KYW Newsradio story reported. Real evidence that would have proven that the Thomas brothers had not committed the crime was overlooked. Devlin and Worrell later retired and could not be sued or prosecuted because the statutes of limitations for such cases had expired years ago.
Thomas was later helped with his long legal fight by attorney James Figorski of the Dechert law firm and by the Pennsylvania Innocence Project, which works to help exonerate prisoners who are convicted of crimes they did not commit. Thomas's lawsuit accused Devlin and Worrell of violating his civil rights through their actions.
Yet despite all he has gone through, Thomas does not seem to be a bitter man. He has missed out on much in his life, but he is not filled with hate over what happened to him, he said.
"It's not part of my character, it's not what I am," he said. "I really don't think that any amount of money compensates me for the loss that I endured. As far as my memories, my grandparents are now gone. I could have had a career in my life, I could have done much more with my life, I think."
Yet intense bitterness is absent.
"I could have gone to more places in my life," he said. "I could have experienced life as a 20-year-old and as a 30-year-old person. But instead I was in the penitentiary. All that was taken away from me."
Today Thomas continues to regain his life after 24 years of hell behind prison bars.
"When I was first released, I went horseback riding, I took trips overseas," said Thomas. "Now I go places, I do things, I go to movies. Every day is precious to me."
He takes each day as it comes, one day at a time.
"I look at it as a blessing that I am here," said Thomas. "I just look at life differently."
In the aftermath of Thomas' exoneration in 2017, the Philadelphia District Attorney's Office has been further investigating additional cases that involved the two detectives who had arrested Thomas and his brother. More exonerations against additional prisoners could come.
Interestingly, Figorski, the Dechert lawyer who has worked on Thomas' case pro bono with the Pennsylvania Innocence Project, has more than just a law degree. For 25 years, Figorski was a police officer in Philadelphia before becoming an attorney. Figorski used his police experience to help uncover records and information needed in the case. In 2011, a key witness against Thomas recanted his testimony. The legal fight continued for years.
One of the most important pieces of evidence in the case – a sign-in log at the juvenile detention facility where Thomas was being housed when the murder occurred – was later found to be missing because it was destroyed by the institution after one year as standard procedure, said Figorski. Thomas had told the detectives to look for his signature in the sign-in book and that it would prove his whereabouts and his innocence, but they did not reveal the information, said Figorski.
Thomas' statements to check the log was one of the things that helped Figorski come to believe Thomas' story.
"Shaurn didn't know it had been destroyed and he told them to look at his signature in the log," which would have shown the detectives were lying, he said. "It was one of the things that the district attorney said, once I told them about it, that it was good point."
We here at MyPhillyLawyer celebrate Thomas' continuing path to a normal life after his horrific experiences of being imprisoned for 24 years for a murder he did not commit. We wish him well and applaud the work of the Pennsylvania Innocence Project and others who help prisoners who are falsely incarcerated.
Every day MyPhillyLawyer attorneys work tirelessly on behalf of our own clients on a wide range of car crash, truck crash, personal injury, medical malpractice and other legal claims. Often, we are not able to discuss the cases we are actively working on due to confidentiality requirements, so we discuss other relevant cases in the news such as this one to illustrate the legal situations people find themselves in every day.
When you need a car accident injury attorney, we here at MyPhillyLawyer stand ready to assist you with your legal case if you or a loved one is ever seriously injured in any kind of vehicle crash, slip and fall, workplace injury or wrongful death in Philadelphia or anywhere in the United States. We pledge to make sure that you and your family get the compassionate, dogged and experienced legal representation that you deserve and expect from a professional legal team which works hard to uncover every fact to bolster your case and maximize your damage award.
We represent the families of victims who die in such tragedies as well, to ensure that their families receive every penny of damages that they are eligible to receive.
Talk to a Philadelphia car crash attorney at MyPhillyLawyer by calling 215-914-5471 or toll-free at 1-866-907-2231 anytime and our experienced, compassionate, aggressive team of attorneys and support staff will be there for you and your family every step of the way as we manage your case through the legal system.
When Winning Matters Most, Call MyPhillyLawyer.
Listen to Court Radio every Sunday at 7 a.m. with me, attorney Dean Weitzman of MyPhillyLawyer, on Philadelphia's Old School 100.3 WRNB, Boom 103.9 or on Classix 107.9 WPPZ FM. Listen to Court Radio online or on the radio every week for the latest on legal topics and to get answers to your legal questions. In addition to addressing the topical issues of the day, we'll answer caller questions on a wide range of legal issues.