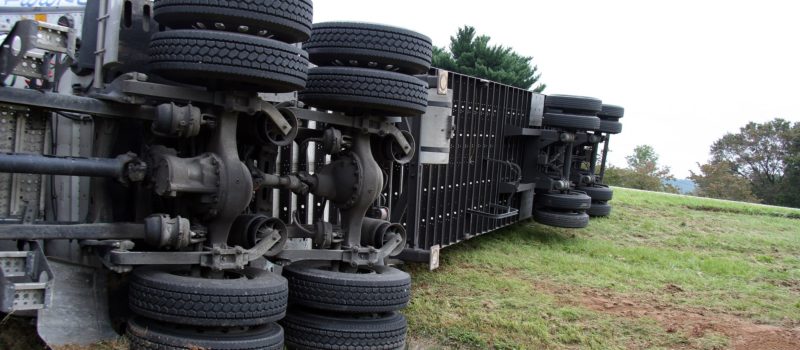 Truck Accident Case Settles On The Steps Of The Courthouse For $1.75 Million
By Dean I Weitzman, Esq. on August 13th, 2021
Our client was just 28 years old when he was involved in a serious trucking accident that left him permanently disabled. Mr. Davis had just started his career as a long-haul trucker and was looking ahead to being financially secure when the accident happened. 
His co-driver drove the rig off I-80 in Nevada and totaled the truck. Mr. Davis, who was sleeping in the berth, was ejected and sustained severe injuries involving significant disc herniations in his lumbar and cervical spine. He endured significant pain and suffering and was permanently disabled from his injuries and four spinal surgeries.
MyPhillyLawyer attorneys Dean Weitzman and John Lord obtained a $1.75 million settlement for Mr. Davis – an amount that would provide him with financial security for the rest of this life. 
MyPhillyLawyer truck accident attorneys filed a lawsuit on behalf of Mr. Davis against the driver, Andriy Prionyk, and the owner of the car hauler, AY Trucking. We had to prove negligence issues and that Mr. Davis' medical care was necessary and reasonable. Additionally, we needed to determine if Mr. Davis was an independent contractor or an employee of AY Trucking as it related to immunity from a lawsuit under the Pennsylvania Workers' Compensation Act.
MyPhillyLawyer hired credible, skilled experts who could testify that Mr. Davis was permanently disabled and that his treatments, past and future, were required for his life-altering injuries. Part of our strategy was to determine the qualifications of the lead driver, Mr. Prionyk, since he and AY Trucking had a contract stating he was an independent contractor. There were no contracts between Mr. Davis, AY Trucking, and Mr. Prionyk.
MyPhillyLawyer also hired a trucking industry expert to assess the work situation of Mr. Davis in this case. The expert concluded that even though the driver, Mr. Prionyk, was an independent contractor, AY Trucking, the car hauler owner, was liable for the accident under the Federal Motor Carrier Safety Act (FMCSA), which squarely places the responsibility on the carrier for the actions of their drivers, whether they are independent contractors or designated workers.
Just before jury selection, on the steps of the courthouse, the defendant's lawyer and MyPhillyLawyer reached a settlement agreement of $1.75 million. 
If you or a loved one has been injured in a Philadelphia truck accident, you may be entitled to significant compensation. Our skilled team of Philadelphia trial attorneys aggressively pursues favorable settlement offers when possible but will not hesitate to take a case to trial if necessary. 
To learn more about how we can help you recover compensation for the injuries you have sustained in vehicle accidents call 215-227-2727, or toll-free (866) 352-4572. We do not bill you for our services unless we can help you recover from your injuries.