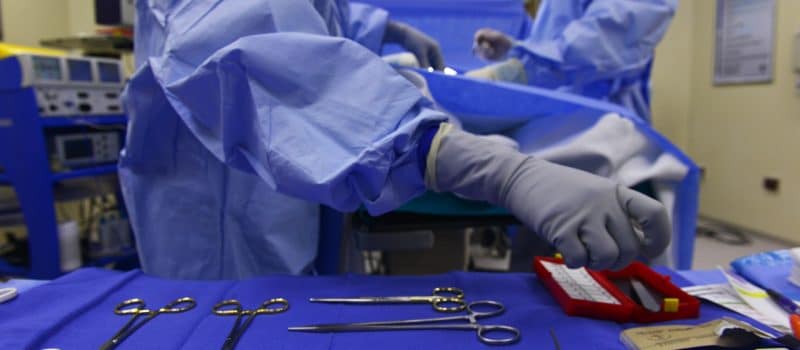 $8.78M Med Mal Verdict to Man Who Lost Lower Legs After Colon Surgery
By Dean I. Weitzman, Esq. on October 29th, 2016
A Butler County jury awarded an $8.78 million medical malpractice verdict to a Butler, Pa., man who went into septic shock and lost both of his lower legs following surgery to repair a colon problem.
The patient, Todd Wogan, initially underwent colon surgery at Butler Memorial Hospital in January 2012 to repair a a colovesical fistula—which is an abnormal connection between the colon and bladder—according to an Oct. 10 story by the Pittsburgh Tribune-Review. A second procedure was done later that month in which surgeons removed 6 inches of Wogan's colon and surgically stapled it back together, the story reported.
The patient then "never fully recovered and was in and out of the hospital and doctor's office" until being re-admitted to the hospital on March 22 for severe abdominal pain, according to the story. During that stay, the hospital staff did not tell his doctor about his worsening condition until more than 12 hours later, the report continued. The surgeon later "performed exploratory surgery and determined Wogan's colon was perforated and leaking fluids into his abdomen," which was causing his intense pain.
The patient was then flown to Allegheny General Hospital in Pittsburgh where seven surgeries were performed to "drain his abdominal cavity of fecal matter and clean up accompanying infections," the story reported.
The complications since the original surgery, however, caused prolonged septic shock that cut off blood flow to his legs and led to gangrene in both feet, the story reported. As a result, both of Wogan's legs had to be amputated at mid-calf due to the complications. "Wogan subsequently lost his left thumb and had a portion of his left index finger removed due to ongoing circulation issues stemming from the sepsis," the story continued.
After a three-week trial in the Butler County Court of Common Pleas, the jury found Butler Health Systems to be 100 percent liable for negligence in the case. Wogan, 52, formerly worked as a press foreman at Trib Total Media before his illness and surgeries, the story reported. The jury did not find the initial surgeon in the case to be liable and instead ruled that the hospital and its staff were liable for Wogan's medical complications.
These kinds of cases are a somber reminder that patients and their families must be vigilant about the medical care they receive so they know what is being done for a patient's care every step of the way. But at the same time, patients and families aren't doctors and they can't know every question to ask.
That's where skilled, expert, compassionate and thorough legal representation is needed by patients and their families who have been harmed by medical malpractice and errors or omissions during their treatment. These kinds of cases happen on a regular basis, but they can be fought by legal teams that are prepared to battle for their clients' rights all along the way to a fair settlement or to a just verdict.
We here at MyPhillyLawyer stand ready to assist you with your legal case if you or a loved one is ever seriously injured in a similar medical malpractice, birth injury or related case anywhere in the United States. We represent the families of victims who die in such tragedies as well, to ensure that their families receive every penny of damages that they are eligible to receive.
Call MyPhillyLawyer at 215-227-2727 or toll-free at 1-866-920-0352 anytime and our experienced, compassionate, aggressive team of attorneys and support staff will be there for you and your family every step of the way as we manage your case through the legal system.
When Winning Matters Most, Call MyPhillyLawyer.