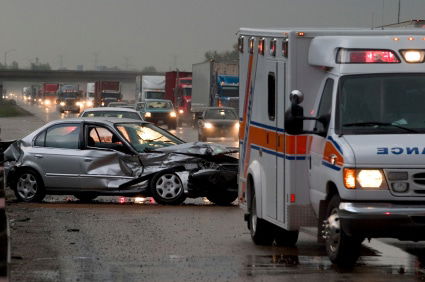 $27.5M Verdict to Ex-College Football Player Hurt in Vehicle Crash
By Dean I Weitzman, Esq. on January 20th, 2017
A former UCLA college football player who lost part of his left leg when he was struck by a taxi van while riding his motorcycle in July 2012 in Los Angeles will receive a $27.5 million damage award to compensate him for his severe injuries.
The victim, Amir "Nick" Ekbatani, who is now 29, was hurt on July 14, 2012, when he was riding his motorcycle on Pacific Coast Highway at Diamond Street when a taxi van being driven by Mesfin Kinfu allegedly failed to yield the right-of-way and struck Ekbatani's motorcycle in the intersection, according to a Jan. 9 report by The (Torrance, Calif.) Daily Breeze.
The plaintiff sued the California Department of Transportation (Caltrans) and the taxi van driver in connection with the crash, alleging that Caltrans knew of the inherent design flaws and traffic dangers in the angular intersection but did nothing to improve safety in the intersection, the story reported.
The case was heard by a Los Angeles Superior Court jury, which also found negligence by the taxi van driver, the story reported. The victim had settled a separate damage case with the taxi van driver before the trial, according to the story.
The plaintiff's attorneys argued that Caltrans should have made safety changes to the intersection because Diamond Street crosses Pacific Coast Highway at a severe 60 degree angle, drops off and is dangerous, the story reported. The crash could have been avoided had a left-turn signal been in place, because a red light would have stopped Kinfu from making his turn while Ekbatani was proceeding on a green light, the story states. Other safety improvements could have included the two double-yellow lines to create a simulated median on the pavement that would have forced Kinfu and other motorists to drive further toward the center of the intersection before turning left, which would protect adjacent traffic, the report states.
Ekbatani lost part of his left leg below his knee due to the crash, the story reported. The plaintiff played football at South High School in Torrance and at UCLA, where he played from 2006-09, the story reported. He has undergone 13 surgeries on his leg since the crash.
These kinds of tragic legal cases occur every day when innocent victims are severely hurt or killed in vehicle crashes through no fault of their own due to the actions, inattentiveness or indifference of others. That's why it is critical to have a legal team on your side that uncovers every fact to bolster your case and maximize your damage award.
We here at MyPhillyLawyer stand ready to assist you with your legal case if you or a loved one is ever seriously injured in a vehicle incident or accident anywhere in the United States.
We represent the families of victims who die in such tragedies as well, to ensure that their families receive every penny of damages that they are eligible to receive.
Call MyPhillyLawyer at 215-227-2727 or toll-free at 1-(866) 352-4572 anytime and our experienced, compassionate, aggressive team of attorneys and support staff will be there for you and your family every step of the way as we manage your case through the legal system.
When Winning Matters Most, Call MyPhillyLawyer.