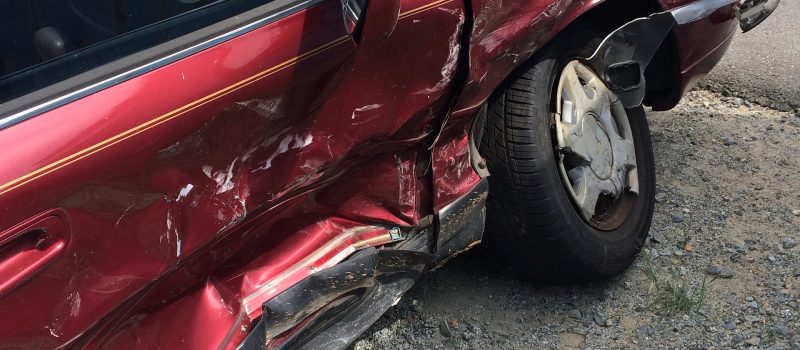 Driver's Estate Receives Only $25,000 After She is Killed in a Car Crash Caused by Another Driver – Here's Why You Need Adequate Uninsured Motorist and Underinsured Motorist Coverage to Protect Your Family if You Are in a Crash
By Dean I. Weitzman, Esq. on April 22nd, 2019
Six months after being struck by another car as she drove her car in Shenandoah County, Va., on Jan. 6, 2017, Brenda Lee Greenfield, the mother of two young children, died of her injuries. The other driver, Karey Mullins, was issued a ticket in connection with the crash for failing to obey a traffic signal.
Mullins paid a $100 fine for the infraction, which involved her 2009 Ford Fusion smashing into Greenfield's car on West Reservoir Road near the interchange with Interstate 81.
Following Greenfield's death, her family filed a lawsuit claiming that negligence by the other driver resulted in the injuries that caused the victim's death, according to an April 13 story by The Northern Virginia Daily newspaper.
Due to low liability insurance coverage limits held by the other driver, however, the victim's two sons and the executrix of her estate could only seek damages of $25,000 from Mullins' insurance policy, the story reported. One of the children was an infant with special needs.
In a settlement reached by the parties, all claims were settled for that $25,000 limit on the policy held by Mullins with USAA Casualty Insurance Co. The settlement was approved by a judge in Virginia.
Tragically, this family was victimized twice by this unfortunate incident. First, the mother of these two children died in a traffic accident, and second, because the victim and the driver who struck her didn't have adequate insurance coverage.
This case is a horrific example of why every driver needs to be sure they have adequate car insurance to protect themselves, including the all-important insurance to protect themselves and their family if the driver who caused the crash doesn't have insurance or doesn't have enough insurance. So called Uninsured Motorist (UM) coverage and Underinsured Motorist (UIM) coverage are incredibly important optional coverages that your insurance agent may not offer to sell to you, but you should ask for them and pay for as much coverage as you can afford.
Uninsured motorist coverage covers you in a crash if the other driver who caused the crash has no car insurance at all. That's illegal, but it happens often enough to be worrisome to drivers who are responsible and carry adequate insurance.
Underinsured motorist coverage is exactly that – it provides coverage to you and your passengers if you are hurt in a crash caused by a driver who does not have adequate insurance to pay for your injuries.
This tragic case in Virginia is an example of the repercussions that happen to victims who are involved in crashes with drivers who are not adequately insured.
If you are to sue for damages and pain and suffering after a crash in which you are injured by another driver, the available pool of damages is limited to the insurance coverage that is available from their policy and from your own UM and UIM coverages.
To ensure that you are not hurt a second time after being injured physically, being sure that you personally have a healthy amount of UM and UIM coverage is essential for preserving your legal rights in the event of a crash caused by another driver.
If you are injured in a crash by another motorist who has only the minimum insurance or a low amount of liability coverage, you will likely have a tough time finding a lawyer who will file a claim against the other driver because the potential damages are so slim. And a civil judgement won't be helpful because the other driver can file for bankruptcy, which will dismiss any judgement you may be awarded. People often think that in the event of such a crash, the other driver will have to pay or that they will go to jail.
The truth, however, is that no one is going to jail in such a case. Accidents happen and people don't necessarily go to jail.
The only remedy people have in tragic cases like this one is to have UM and UIM insurance coverage, and lots of it.
The people who often cause accidents like the one involving this family in Virginia are usually not criminals. The other driver in this case was not drunk. They were just negligent, which isn't a basis on which she could be criminally prosecuted.
To adequately protect your family, you need to determine how much UM and UIM coverage it will it take to care for you for the rest of your life if an accident prevents you from working again, because that's the coverage you need.
Adequate coverage can be affordable and can be part of a discussion you have with your insurance agent. It's worth asking your agent how much UM and UIM you can get for an incrementally higher insurance premium.
It is not worth trying to pay less for adequate insurance. This is coverage for your family's benefit and you are far more likely to be injured in a car accident than in any other way. Be prepared and be well insured with solid insurance coverage.
Legal cases like this one occur around the nation every day and are examples of similar kinds of car crash cases that MyPhillyLawyer attorneys regularly work on tirelessly for our own clients. Often, we are not able to discuss the cases we are actively working on due to confidentiality requirements, so we discuss other relevant cases in the news such as this one to illustrate the legal situations people find themselves in every day.
When you need a car accident injury attorney, we here at MyPhillyLawyer stand ready to assist you with your legal case if you or a loved one is ever seriously injured in any kind of car crash, slip and fall, workplace injury or wrongful death in Philadelphia or anywhere in the United States. We pledge to make sure that you and your family get the compassionate, dogged and experienced legal representation that you deserve and expect from a professional legal team which works hard to uncover every fact to bolster your case and maximize your damage award.
We represent the families of victims who die in such tragedies as well, to ensure that their families receive every penny of damages that they are eligible to receive.
Talk to a Philadelphia car crash attorney at MyPhillyLawyer by calling 215-914-5471 or toll-free at 1-(866) 352-4572 anytime and our experienced, compassionate, aggressive team of attorneys and support staff will be there for you and your family every step of the way as we manage your case through the legal system.
When Winning Matters Most, Call MyPhillyLawyer.
Listen to Court Radio every Sunday at 7 a.m. with me, attorney Dean Weitzman of MyPhillyLawyer, on Philadelphia's Old School 100.3 WRNB, Boom 103.9 or on Classix 107.9 WPPZ FM. Listen to Court Radio online or on the radio every week for the latest on legal topics and to get answers to your legal questions. In addition to addressing the topical issues of the day, we'll answer caller questions on a wide range of legal issues.