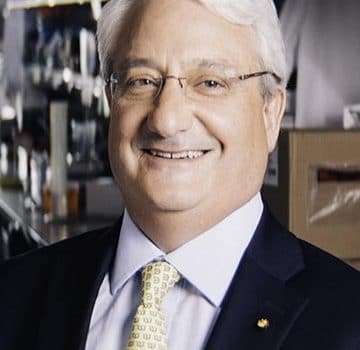 Race Against Time: Creating a Vaccine to fight the Spread of Coronavirus – Hear All About It on Court Radio on Sunday, March 8 at 7 a.m. ET
By Dean I. Weitzman, Esq. on March 6th, 2020
(Photo: Dr. David Weiner of The Wistar Institute)
News about the COVID-19 novel coronavirus is everywhere as the respiratory virus continues its spread around the world and across the United States, with new outbreaks and infections reported daily.
To bring some clarity and expertise to the rising concerns about COVID-19 and present his thoughts about how research is progressing to develop a future vaccine against the virus, Dr. David Weiner, the director of the vaccine and immunotherapy center at Philadelphia's Wistar Institute will be our special guest on MyPhillyLawyer's Court Radio this Sunday at 7 a.m. ET.
Weiner, who is also the executive vice president of The Wistar Institute, will be in studio to discuss Wistar's efforts to create a synthetic vaccine to curb the novel coronavirus virus that is spreading globally. At Wistar, which is a world leader in early-stage discovery science in the areas of cancer, immunology and infectious disease, Weiner directs a translational molecular immunology research team focused on creating novel immunotherapy approaches for disease prevention and treatment. He is also a Professor Emeritus at the University of Pennsylvania School of Medicine.
In his guest appearance on Court Radio, Weiner will discuss the progress of ongoing critical research that is being done to find a vaccine for COVID-19 and talk about how long it is expected to take before good results are discovered that can help stop the virus' spread.
In a recent interview with National Public Radio, Weiner, whose research team also worked on a vaccine for Ebola after a 2014 outbreak, said that new techniques for rapid vaccine development could help bring about a vaccine for COVID-19 more quickly compared to previous diseases. In the past, vaccines could take a decade or more to create, but the new techniques being used by researchers shaved that time to about 15-18 months for Ebola and to about 11 months for a vaccine that addressed an outbreak of Middle East Respiratory Syndrome (MERS) in South Korea in recent years, the story reported. The NPR story said that a vaccine for COVID-19 could potentially be ready by the fall of 2020 using these new research techniques being implemented by Weiner's team and a growing group of other researchers and pharmaceutical companies around the world.
"Vaccines are really our most successful tool to prevent an infectious disease," Weiner told NPR.
Weiner and his team were already working on a research project that was looking at COVID-19 back in December before it began growing by leaps and bounds, according to a Feb. 21 story by the research journal, The Scientist. That research is being led by pharmaceutical company Inovio Pharmaceuticals, which developed a DNA-based vaccine for the coronavirus known as MERS, the story reported.
"We had been paying very close attention to the [COVID-19] cases increasing over Christmas in China," Weiner told The Scientist. When needed COVID-19 genetic sequences became available in January, Weiner's team joined scientists from Inovio, as well as researchers from Université Laval, the National Institutes of Health's Rocky Mountain Laboratories and other organizations, to seek answers to solving SARS-CoV-2, the virus that causes COVID-19.
During his guest visit to Court Radio, Weiner will talk about these efforts and give a status update. "Wistar feels compelled to deploy its expertise and its technological advancements to combat global emerging infectious diseases as part of its mission and is proud to be part of one of the first initiatives to approach this evolving global health threat," Weiner said in a statement.
We welcome you to listen in this Sunday morning at 7 a.m. ET to hear Weiner's views. Hosted by managing partner Dean Weitzman of MyPhillyLawyer, Court Radio can be heard on Philadelphia's Old School 100.3 WRNB, Boom 103.9 or on Classix 107.9 WPPZ FM via live radio or online at the websites for each station.
At personal injury law firm MyPhillyLawyer, our attorneys work tirelessly every day on behalf our clients on a wide range of cases, including medical malpractice, car crashes, slip and falls and more. We handle complex medical malpractice cases and catastrophic motor vehicle crashes involving tractor trailers, plus many other cases.
When you need a medical malpractice or personal injury lawyer, we here at MyPhillyLawyer stand ready to assist you with your legal case if you or a loved one is ever seriously injured in any kind of cancer surgery or diagnosis, transvaginal mesh implant, surgical or medical procedure, car crash, slip and fall, workplace injury or wrongful death in Philadelphia or anywhere in the United States. We pledge to make sure that you and your family get the compassionate, dogged and experienced legal representation that you deserve and expect from a professional legal team which works hard to uncover every fact to bolster your case and maximize your damage award.
We represent the families of victims who die in such tragedies as well, to ensure that their families receive every penny of damages that they are eligible to receive.
Talk to a Philadelphia medical malpractice attorney at MyPhillyLawyer by calling 215-914-5471 or toll-free at 1-(866) 352-4572 anytime and our experienced, compassionate, aggressive team of attorneys and support staff will be there for you and your family every step of the way as we manage your case through the legal system.
When Winning Matters Most, Call MyPhillyLawyer.
Listen to Court Radio every Sunday at 7 a.m. with me, attorney Dean Weitzman of MyPhillyLawyer, on Philadelphia's Old School 100.3 WRNB, Boom 103.9 or on Classix 107.9 WPPZ FM. Listen to Court Radio online or on the radio every week for the latest on legal topics and to get answers to your legal questions. In addition to addressing the topical issues of the day, we'll answer caller questions on a wide range of legal issues.