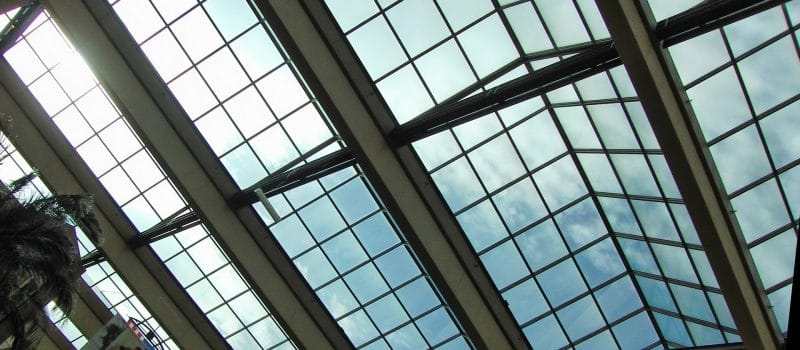 Personal Injury Attorney Wins $24.8 Million Verdict for Roofer Who Suffered Catastrophic Injuries When He Tripped and Fell Through a Roof Skylight at Auto Body Shop While Making Roof Repairs
By Dean I. Weitzman, Esq. on April 5th, 2019
A suburban Philadelphia roofer who tripped and fell through a roof skylight while making roof repairs at an auto body shop in Delaware County in June of 2016 has been awarded $24.8 million jury verdict after suffering catastrophic brain injuries, multiple bone fractures and partial blindness in the accident.
The victim, Sean Kalinowski, and his wife, Michele, received the jury award following a month-long trial in the Philadelphia Court of Common Pleas after filing a personal injury lawsuit, according to a March 28 story by Law.com.
Sean Kalinowski, who was in his early 40s at the time of the incident, was working on the roof of an auto body shop in Aston when he likely tripped on a pallet on the roof or on the skylight mounts and fell through the glass skylight to the concrete floor about 20 feet below, the story reported.
The lawsuit for the Kalinowski family argued that guard rails or screens should have been installed around the skylight to protect anyone on the roof from falls, the report continued. The building housing the auto body shop is owned by 2626 Market LLC and was being leased by ABRA Auto Body & Glass. Both companies were named as parties in the lawsuit.
A pretrial memo from the plaintiff's attorneys argued that the defendants were negligent for failing to provide a safe workplace or to warn Kalinowski about the dangerous condition on the roof, the story states. The memo also argued that another skylight on the roof had recently been damaged by a heavy hood cover and while repairs were being made to it both defendants had been told that the skylights were dangerous and could result in an injury.
Kalinowski suffered a severe traumatic brain injury and multiple fractures from the fall he sustained and underwent numerous intensive care treatments, including craniotomies, tracheostomy and plate fixation, the story reported. After two months of hospitalization, he was treated at a nursing facility for a month and then spent three months at Bryn Mawr Rehabilitation Hospital. Following those treatments he was then hospitalized again for seizure disorders and hardware removals, the story continued.
Kalinowski also suffered partial blindness due to his injuries and is unable to work or live alone, requiring continuing help with daily tasks, the story reported.
After hearing testimony in the case, the jury found the body shop 60 percent negligent, the building owner 30 percent negligence and Kalinowski himself 10 percent at fault in the incident, according to the story.
The case was handled by the law firm of Eisenberg, Rothweiler, Winkler, Eisenberg & Jeck of Philadelphia.
Legal cases like this one occur around the nation every day and are examples of similar kinds of slip and fall accident cases that MyPhillyLawyer attorneys regularly work on tirelessly for our own clients. Often, we are not able to discuss the cases we are actively working on due to confidentiality requirements, so we discuss other relevant cases in the news such as this one to illustrate the legal situations people find themselves in every day.
When you need a slip and fall attorney, we here at MyPhillyLawyer stand ready to assist you with your legal case if you or a loved one is ever seriously injured in any kind of slip and fall, workplace injury, wrongful death or car crash in Philadelphia or anywhere in the United States. We pledge to make sure that you and your family get the compassionate, dogged and experienced legal representation that you deserve and expect from a professional legal team which works hard to uncover every fact to bolster your case and maximize your damage award.
We represent the families of victims who die in such tragedies as well, to ensure that their families receive every penny of damages that they are eligible to receive.
Talk to a Philadelphia personal injury attorney at MyPhillyLawyer by calling 215-914-5471 or toll-free at 1-(866) 352-4572 anytime and our experienced, compassionate, aggressive team of attorneys and support staff will be there for you and your family every step of the way as we manage your case through the legal system.
When Winning Matters Most, Call MyPhillyLawyer.