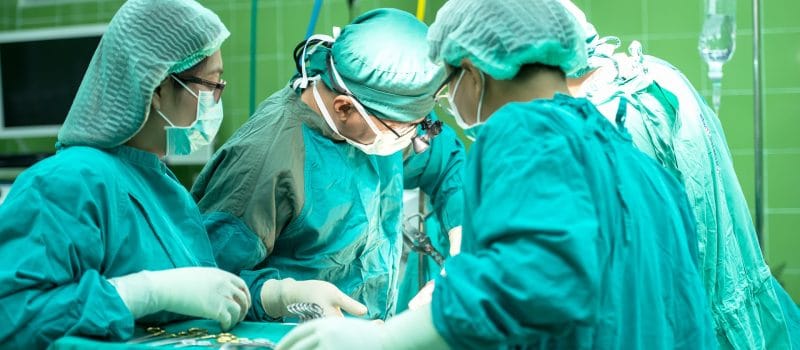 MyPhillyLawyer Personal Injury Law Firm Assists in Securing an $80 Million Jury Verdict for a 75-Year-Old Philadelphia-Area Woman Who Was Seriously Injured by Transvaginal Mesh Surgery
By Dean I. Weitzman, Esq. on May 31st, 2019
Philadelphia personal injury law firm, MyPhillyLawyer, provided legal assistance in a recent transvaginal mesh surgery case that won an $80 million verdict for a 75-year-old Philadelphia-area woman who suffered serious injuries following the medical procedure.
MyPhillyLawyer assisted the law firm of Kline & Specter in Philadelphia on the case, which was filed on behalf of plaintiff Patricia Mesigian of Media, Pa., who had suffered multiple injuries after the erosion of an Ethicon Prolift transvaginal mesh implant she received in 2008 to treat organ prolapse. Ethicon is a subsidiary of Johnson & Johnson. Mesigian's lawsuit alleged that Johnson & Johnson failed to provide adequate warnings about the safety issues linked to the defective device.
Transvaginal mesh (TVM) is a synthetic netting implanted in women to treat pelvic organ prolapse (when pelvic organs fall out of place) and urinary incontinence (involuntary urine leakage). Pelvic organ prolapse (POP) occurs when the cervix, uterus, bladder or other reproductive organs slip down into the vagina due to the weakening of pelvic muscles. Worldwide, hundreds of thousands of women have undergone surgery to implant transvaginal mesh. Unfortunately, tens of thousands of those women have suffered from unexpected transvaginal mesh injuries.
Pelvic mesh was originally a product intended for use in sterile surgical sites during abdominal surgery, but then was used later as a secondary way to prop up the internal organs of women after childbearing years when their organs folded down and collapsed. The problem is that the mesh begins to break down into a myriad of pieces and causes havoc in a victim's body. When this happens, the pieces of mesh are almost impossible to remove it and cause a wide range of dangerous health conditions. This is what occurred in Mesigian's experiences with the failed mesh implants.
Transvaginal meshes have been shown to cause numerous injuries, including infections, internal bleeding, nerve damage, perforation of other organs and blood vessels, erosion of the vaginal mesh, problems and pain while urinating, incontinence and pain during sexual intercourse.
Many of our clients have had multiple surgeries to try to correct these problems, but the injuries are lasting and often painful and debilitating.
Serious injuries due to defective vaginal mesh products continue to be a serious health problem for a growing number of women across the United States. Patients who suffer from the crippling injuries caused by these defective mesh devices need skilled, compassionate and dedicated legal teams to help them recover damages for their injuries, pain and suffering.
Women have been injured through these kinds of surgeries because the vaginal mesh manufacturers released and sold products which continue to be problematic for thousands of patients. Instead of being led by concerns over clear patterns of serious medical problems from these products, the manufacturers continue to be motivated only by profit and sales, harming the patients who are being victimized by vaginal mesh implants.
The Mesigian case was heard in the Philadelphia Court of Common Pleas and included $50 million in punitive damages. The verdict was announced on May 17, according to a May 18 story in The Philadelphia Inquirer. It was the eighth time a Philadelphia jury has awarded substantial damages to a plaintiff in a defective mesh case.
Mesigian's eroded mesh caused her to develop pelvic pain, infection, inflammation and scar tissue, while a series of follow-up surgeries failed to correct the medical problems she was experiencing, the story reported. The jury deliberated for two days before finding the Ethicon Prolift device was defective and that Johnson & Johnson failed to provide adequate warning of its risks, the story continued.
"Knowing when and who to partner with on complex matters is more important than you realize," said Dean Weitzman, managing partner of MyPhillyLawyer. "MyPhillyLawyer received a call from a woman suffering from a defective product. Our team jumped into high gear, gathering all of the necessary information, preserving all of the evidence and, at the right time, partnering with the premier litigation firm handling transvaginal mesh litigation in the United States. Partners at each firm met regularly to discuss and strategize on the litigation."
MyPhillyLawyer has a history of success with a broad range of defective product cases including dangerous medical devices. The law firm has recovered more than $500 million for its clients through a wide variety of personal injury lawsuits.
"Our client smartly chose MyPhillyLawyer and for the same single legal fee, had the attention and work product of two premier law firms," said Weitzman. "The end result was a six-week trial culminating in an $80 million verdict. It all began at MyPhillyLawyer."
Pelvic mesh has become one of the biggest mass torts in U.S. history, according to the Inquirer report. Medical device makers are paying nearly $8 billion to settle the claims of more than 100,000 women who suffered complications.
Legal cases like this one occur around the nation every day and are examples of similar kinds of medical malpractice or personal injury cases that MyPhillyLawyer attorneys regularly work on tirelessly for our own clients. We handle complex medical malpractice cases and catastrophic motor vehicle crashes involving tractor trailers, plus many other cases.
When you need a medical malpractice or personal injury lawyer, we here at MyPhillyLawyer stand ready to assist you with your legal case if you or a loved one is ever seriously injured in any kind of transvaginal mesh implant, surgical or medical procedure, car crash, slip and fall, workplace injury or wrongful death in Philadelphia or anywhere in the United States. We pledge to make sure that you and your family get the compassionate, dogged and experienced legal representation that you deserve and expect from a professional legal team which works hard to uncover every fact to bolster your case and maximize your damage award.
We represent the families of victims who die in such tragedies as well, to ensure that their families receive every penny of damages that they are eligible to receive.
Talk to a Philadelphia medical malpractice attorney at MyPhillyLawyer by calling 215-914-5471 or toll-free at 1-(866) 352-4572 anytime and our experienced, compassionate, aggressive team of attorneys and support staff will be there for you and your family every step of the way as we manage your case through the legal system.
When Winning Matters Most, Call MyPhillyLawyer.
Listen to Court Radio every Sunday at 7 a.m. with me, attorney Dean Weitzman of MyPhillyLawyer, on Philadelphia's Old School 100.3 WRNB, Boom 103.9 or on Classix 107.9 WPPZ FM. Listen to Court Radio online or on the radio every week for the latest on legal topics and to get answers to your legal questions. In addition to addressing the topical issues of the day, we'll answer caller questions on a wide range of legal issues.